This complete guide is filled with valuable tips on how to buy used parts, where to look for quality salvage parts, how best to determine a fair price, ways to validate salvage yards, and how not to get ripped off by fraudulent wrecking yards. A must have for anybody buying parts.
Get your copy now!
Auto Parts, Lights, Wheels, Engines..
FREE Auto Insurance Quote Page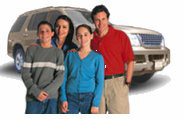 Auto insurance is now mandated by most states, so unless you want hefty tickets and fines you must carry a certain amount of automotive insurance. Automotix has now made it easier for you to get insurance. You can now enter your zip code and all of the insurance agencies within your State that are state registered and can do online insurance quotes will show up.

Once you see how many different companies can give you an online quote, you won't be able to resist comparing liability and comprehensive insurance for your vehicle with different insurance agencies
Get Low Cost Auto Insurance Rates in Your State
  It's extremely easy to get an online insurance quote. Simply enter some personal information that's in a secure website, remember most of these companies want your returning business and feel privacy is important. You'll also enter an approximate driver's record. It doesn't have to be exact, but use the same driver's record for all insurance agency quotes so the insurance comparison quote will be fair. You'll also need to enter information about your particular vehicle, whether it's a truck or car, the year and model and possibly mileage. This will allow the insurance company to give you a standardized quote concerning your particular vehicle. Once you've entered all the information. You'll get quotes that you can compare from different insurance agencies that can sell insurance in your state almost immediately. Within a few days, the insurance agencies that you've requested an insurance quote from will send you an adjusted quote from checking on your driver's record. It's as simple as that, and quite possibly you're going to find that you save hundreds of dollars over your downtown insurance agency.
Get Direct Car Insurance Quote
  The online automotive insurance companies have to follow all of the state rules, just like your downtown insurance agency. They have to be state registered, bonded and licensed. So there really is no difference, besides the fact that you're not talking to somebody person-to-person. Although, most online insurance companies have a phone number you can call, so that you can ask questions concerning how much liability or comprehensive automotive insurance you may need. The big difference is the savings on your personal automotive insurance. Because they don't have to have a fancy office in an accessible area, their overhead is less, which equals insurance premiums that cost you less.
Compare Multiple Insurance Quotes
  Once you've decided that you can save hundreds of dollars by dealing with an online insurance company, you can actually purchase your insurance right online. You can also make reoccurring payments, so there is no problem with loss of insurance due to a lost payment, or a late payment. You'll also be able to print your automotive insurance cards, right from your home printer. All of this can be done in just a few minutes, compare, purchase, and print your cards, no waiting in the office for your insurance agent to return from lunch or standing in line, waiting for someone else to finish their insurance purchase. Just a few clicks, some information, pay, confirm, print and your done.
Get your free car insurance quotes in minutes.
  So enter your ZIP code, hit Go, and choose a few insurance companies to get quotes from. Within a few moments, you'll have realistic insurance quotes for your auto to compare and get the best insurance rates possible, all from the comfort of your own home, brought to you from, Automotix.
Here are some of the insurance carriers waiting for your business: