Online Auto Parts Store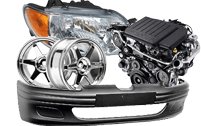 When looking for auto parts, the online super mall of Automotix is the right solution for you. You, the customer, have many options to choose from but unlike a regular mall the online mall lets your fingers do the walking. We have specialty stores to choose from that have just the category or part you are looking for whether it is truck parts, engines or accessories. We have what you want and we make it easy for you to look and compare. You can check out different qualities and parts specialties along with your online stores. Search the rest if you must than come and buy from the best.
Auto Body Parts  > Used Parts  > Wheels Rims N' Lights  > Engines  > Transmissions  > More...
Finding an online auto body part doesn't have to be an exercise in frustration. At Automotix, we have online suppliers with the biggest inventories in the nation. Come and find the bumper, roof, headlight or taillight you need. Our inventory is exhaustive and we have multiple storage locations to insure that shipping prices are the best in the market. Check out our warranty and low price guaranty.
Click Here to shop for auto & truck body parts! 
We offer LKQ used auto and truck parts including recycled rear and front Bumpers, Headlights, Taillights, Manual and Power Mirrors, Air Bags, Rims, Trunk Lids, Steering Columns, Engines, Automatic Transmissions, and other automobile parts. All our salvage car/truck parts come with a 1-Year warranty and lowest price guarantee. Save money and help the environment by gaining the value of salvage auto parts.
Click Here to shop for used auto parts! 
If you are needing that special alloy wheel or hard to find steel rim; look no more. We have over 30,000 categories of automotive wheel parts and lights. Whether it is a steel rim or chrome alloy wheels or even wheel cover, you will find that part here. You don't have to be concerned with generic inferior parts - our wheels and lights come with a lifetime warranty. The parts we sell are certified and warranted to fit right every time.
Click Here to shop for OEM wheels, rims N' lights! 
Are you tired of not finding exactly what you want or not being sure that what you found will work for you? Well, you will be pleased to know that we have an extensive inventory of remanufactured engines with warranties to match. Our search engine allows you to tell it exactly the size, year, model and make of the engine you are looking for. We take the work and the guesswork out of replacement engine buying.
Click Here to shop for auto/truck engines! 
Finding rebuilt auto transmissions just became a whole lot easier. No looking in the newspaper or searching the salvage yards or garages. Come and check us out. It is easy to search, the price is right and the service can't be beat.
Click Here to shop for car or truck transmissions! 
We offer only high quality certified used engines and transmissions for most cars and trucks. Our inventory is refreshed daily and has over than 100,000 engines and transmissions to choose from. Whether you are looking for domestic, import or Japanese engines/transmissions, we have them all. We warranty all our salvage and used engines with an exceptional 1 year Warranty. Check out our engine and transmission store. If you don't find what you are looking for, then give us a call and we will find it for you.
Click Here to shop for used car N' truck engines/transmissions! 

This complete guide is filled with valuable tips on how to buy used parts, where to look for quality salvage parts, how best to determine a fair price, ways to validate salvage yards, and how not to get ripped off by fraudulent wrecking yards. A must have for anybody buying parts.
Get your copy now!