This complete guide is filled with valuable tips on how to buy used parts, where to look for quality salvage parts, how best to determine a fair price, ways to validate salvage yards, and how not to get ripped off by fraudulent wrecking yards. A must have for anybody buying parts.
Get your copy now!
Auto Parts, Lights, Wheels, Engines..
Car Insurance Alabama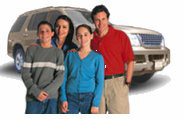 Alabama Car Insurance Facts old that
With well over 3 million private passenger cars in Alabama, you can expect that the insurance business is competitive. Alabama is ranked number 37 in cost of average expenditure for insurance in 2005. This includes comprehensive, which covers your Alabama vehicle for damage not caused by a collision or theft. The average consumer spends $677 per passenger vehicle in Alabama for insurance coverage. So take a few moments and see if you can beat the Alabama average on your insurance rates by getting quick and efficient insurance quotes, right here online at Automotix.
Alabama State Minimum Requirements

Alabama requires that all vehicles be covered by liability insurance of at least $20,000 for injury, $40,000 for all injuries in an accident, and $10,000 for property damage in an accident, that means that over 3 million insurance policies are written every year. So you can bet, that insurance companies not only want your business, but that you can find insurance in Alabama that is competitively priced. In addition to liability insurance that is state mandated by Alabama 77% of insured drivers also purchase comprehensive coverage as well a 72% purchasing collision insurance.
In Alabama you need to carry proof of your liability insurance coverage with the best evidence being your insurance card that was issued by the actual insurance company that you bought your policy from. But you can also prove your insurance policy with a receipt or an insurance binder that was issued from your insurance agency, the actual insurance policy, or if you just bought your vehicle, you can prove your insurance with a valid card from your previous vehicle. And if you are driving a rental car, you will need the rental agreement proving that the rental company insures the car.
There is an alternative to automobile insurance in Alabama. You may carry a motor vehicle liability bond or a proven deposit of cash instead of insurance from an Alabama state insurance company. Normally, you will have to have a bond of not less than $50,000 or a cash deposit with the Alabama State Treasurer of not less than $50,000. You may go here Regulation 810-5-8-01 to receive more information on a motor vehicle liability bond, and for a cash deposit certificate Regulation 810-5-8-02.
Noncompliant State of Alabama Insurance Laws

In Alabama, the Department of revenue will randomly survey vehicle owners to be sure that they are carrying at least liability insurance. If you are caught in Alabama without liability insurance, your vehicle registration tag will be suspended and the need to reinstate will be $100 for the first offense. If you are caught again, without liability insurance for your Alabama vehicle, it will be $200 and a four-month registration suspension.
Many insurance terms can be confusing, so here's a rundown on what exactly liability insurance is and what it covers.
Bodily Injury Liability Insurance this coverage is for other people in the accident, not you. It will cover in case they filed claims for medical expenses, lost wages, and pain and suffering.
Property Damage Liability Insurance this coverage is for the damage done to the other parties property such as their vehicle, their fence, yard, home or any other item damaged by your collision.
Uninsured Motorist Insurance this insurance is for a collision involving an underinsured motorist. If the other vehicle either does not have insurance or is underinsured to cover your vehicle and possibly personal body damage, your uninsured insurance policy will help you cover your loss. You may have to have separate coverage for property damage, bodily injury, and your vehicle.
Insurance is expensive and any activity on your insurance policy usually will raise your rates. Even if you are to call to find out whether you are covered for an accident that has happened, it is commonly marked down on your insurance policy, and enough phone calls, and your rates may increase. So if you are in an accident your first decision concerning repairing your automobile, should be whether you can cover the cost your self. Should you see enough damage to realize that you cannot cover the damage then inform your insurance agency. Making this decision before you call your insurance agency can save you money in the long run.
Should you find that you've been in an accident; there are several things that you need to do in order to make filing a claim or repairing your vehicle a bit easier. Once you've called for medical attention you need to assess the extent of the damage to your vehicle or to you and your passengers. You will then need to file an accident report with your local police, be sure to discuss the collision with only the police, so that you can report accurately. You'll also want to record immediately all of the facts of the collision, don't wait, as things can get a bit blurred down the road. And if you have decided that you cannot pay for the damage to your vehicle your self, call your insurance agent immediately. Often times, the police can help you give an accurate description, while you're on the phone.
Automotix Offers Free Insurance Quotes for Alabama Residents

Here at Automotix we've made it easy to get insurance quotes and to make sure that you're fully covered according to Alabama State mandates. Feel free to check our Yellow Pages section to find local auto insurance agents. Or you can get quotes for insuring your vehicle right here, online. A bit of simple information, and you can have several different quotes, from several different Alabama insurance agencies to choose from. So try to beat your State average for your Alabama automobile insurance, right here, at Automotix.
Here are some of the Alabama insurance carriers waiting for your business: