This complete guide is filled with valuable tips on how to buy used parts, where to look for quality salvage parts, how best to determine a fair price, ways to validate salvage yards, and how not to get ripped off by fraudulent wrecking yards. A must have for anybody buying parts.
Get your copy now!
Auto Parts, Lights, Wheels, Engines..
Car Insurance Alaska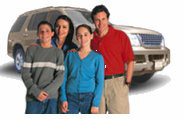 Alaska Auto Insurance Facts
Alaska has almost 400,000 passenger vehicles that are insured yearly; this means in Alaska, insurance rates can be highly competitive. Many consumers don't seem to realize that you can save quite a bit of money by shopping around for your Alaska automotive insurance. Here at Automotix, we've made it simple, effective and easy to compare automotive insurance rates for your Alaska auto insurance.
Alaska State Insurance Requirements

In 2005, Alaska was ranked 11th in the average expenditure per vehicle for insurance at $962. This was actually a decrease in average insurance rates in Alaska from 2004 of 1.2%. Alaska has state-mandated that you carry a certain amount of insurance for your Alaskan registered vehicle. Alaska demands that you have a liability insurance policy up to date and current any time that you drive on the streets or highways. Minimum insurance for Alaskan automobiles is $50,000 for injury or death, $100,000 total per accident or collision, and $25,000 for property damages.
Noncompliant State of Alabama Insurance Laws

In Alaska, you must show proof of liability insurance any time the damage has exceeded $500 in a collision or accident and you also must show proof of insurance every year when you register your vehicle with Alaska DMV. If you're found without the required Alaskan liability insurance while on the streets of Alaska or were involved in an accident or collision you may have your driver's license suspended for a period of 90 days to one year depending on your driving record. So not only should you try to beat the states average insurance costs, but also protect your self from losing your drivers license, get an online insurance quote here, at Automotix, and see how much money you can save.
Alaska Insurance Terms
Insurance terms can be confusing and understanding what it means to have the minimum requirements filled is vital to understanding whether you should increase the minimum standards for Alaskan automotive insurance.
The minimum liability insurance, which covers anyone you injure, your passengers, and your self in Alaska, only covers up to $50,000 for injury or death per person with a total of 100,000 being paid out for any accident or collision that you're found at fault. And a minimum liability Alaskan insurance for property damage is only $25,000, this means that should you damage someone's home your minimum Alaskan liability insurance will only cover up to $25,000 to repair the damage. It is expensive to be in a hospital, or to repair a home should you cause damage to a person or property. And with Alaska's icy roads for major parts of the year, sliding into someone's home or property or getting injured in an accident is an increased risk. So you may want to increase the levels of liability insurance for your Alaskan state-mandated liability insurance. Finding out the cost of increasing the amount on your insurance, whether it's comprehensive, collision, or just liability insurance in Alaska is now easier than ever with an online quoting service here at Automotix.
Automotix Offers Free Insurance Quotes

To get online insurance quotes and compare quotes from different companies is a simple matter of entering some personal information, an approximate driver's record (be sure to use the same approximate record for all quotes) and information concerning your vehicle, and possibly your drive time/mileage to and from work. Once you've entered all of the information. You will quickly get quotes from different insurance companies for your Alaskan insurance. Comparing quotes for your Alaskan automobile insurance is the best way to try to beat the states average coverage rate of $962, and there's a good chance you're going to save quite a bit of money as well.
Ways to Keep Your Alaska Insurance Premium Low
There are several ways that you can try to keep your liability insurance lower than the Alaskan average. Stay away from high-performance vehicles, sports cars, very small vehicles, very large SUVs, high theft vehicles as well as vehicles with added technology features. You'll also want to assess the damage if you're involved in a collision or accident as to whether you can pay for it your self or have to get your insurance company involved. The more times that you have to get your insurance company involved in your collision or accident, the higher your rates will go. So before calling your insurance agency because of an accident, thoroughly peruse the damage done and decide if you can afford to pay for yourself. So while carrying insurance is mandatory, you can see there are several ways you can avoid increasing the average Alaskan automobile insurance rate.
So be smart about your Alaskan automobile insurance, get quotes from several different companies, pay for any small collisions or accidents yourself, avoid high insurance risk vehicles, and be sure to carry the state-mandated liability insurance for Alaska.
Here are some of the Alaska insurance carriers waiting for your business: