This complete guide is filled with valuable tips on how to buy used parts, where to look for quality salvage parts, how best to determine a fair price, ways to validate salvage yards, and how not to get ripped off by fraudulent wrecking yards. A must have for anybody buying parts.
Get your copy now!
Auto Parts, Lights, Wheels, Engines..
Car Insurance Arizona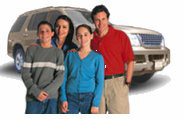 Arizona Car Insurance Facts
There are over 3 1/2 million passenger vehicles insured in the state of Arizona, with Arizona ranking 14th in average insurance costs. This means that the average consumer paid $926 for liability insurance coverage in 2005, which is above the nationwide average of $829 per consumer. This means that shopping for insurance can save you quite a bit of money. Most consumers don't understand that comparison-shopping for their liability insurance in Arizona can save them money. Here at Automotix, we have made it simple and easy to get online insurance quotes for your state-mandated Arizona liability insurance.
Arizona Minimum Requirements

The minimum requirements for liability insurance in Arizona is $15,000 per person with a total of $30,000 allowed for any single collision or accident and a $10,000 minimum coverage for property damage.
Noncompliance Arizona State Insurance Laws

In Arizona, not only do you have to show proof of Arizona state-mandated liability insurance when you register your vehicle every year, but also you will be asked to provide proof of insurance every time that you're pulled over by police officer in Arizona. It is also mandated in Arizona that your insurance company notify the MVD if you have a lapse in liability insurance coverage such as cancellation or failure to renew your policy. This notification will come in the mail and notify you of your registration tabs being suspended due to noncompliance with Arizona liability insurance laws. This state-mandated liability insurance for Arizona also covers, motorcycles, mopeds and even golf carts, so insure any motorized vehicle that you plan on taking on the streets of Arizona.
Be sure to keep your insurance in Arizona current on any motorized vehicle you drive on the streets. Should you not be able to prove that you have liability insurance on your vehicle, not only could you see your vehicle registration suspended, but also you may find that your driver's license could be suspended as well. Once you have been found to be in noncompliance for insurance in the state of Arizona, you may be required to have an SR22 insurance policy for up to three years following noncompliance and SR22 insurance policies are far more expensive than your normal liability insurance requirements.
Automotix Offers Free Insurance Quotes for Arizona Residents

Since Arizona has many ways to discover whether you're carrying the proper insurance on your vehicle, shopping for insurance and keeping current with your policy is the safest way to keep your life uncomplicated. Here at Automotix, you will simply enter a bit of personal information, the type of vehicle you'd like to insure, an approximate driver's record and you receive many quotes to compare rates on your liability insurance policy for Arizona.
Also, because Arizona liability insurance requirements are so low for personal injury and property damage, you may want to increase your liability insurance. It is rare, in a serious collision or accident that your hospital stay, or damage could be lower than the liability limits set for Arizona. So protect yourself appropriately, increase the levels of the liability insurance on your Arizona vehicle, so that you can be covered adequately should you be found at fault in a serious accident. Again, Automotix has made it easy for you to shop for higher levels of insurance for your Arizona automobile. To get comparative quotes, be sure to use the same approximate driver's record, and upgraded liability insurance levels. Using the same variables in all of your Automotix insurance quotes can help you be sure that you're getting the best rate available for the level of insurance you would like to carry on your Arizona vehicle.
It doesn't make sense anymore to take the first insurance quote from your downtown insurance agency. It's easy and convenient to get comparable quotes online here with Automotix for your Arizona automobile insurance, so enter a few variables and find out how much money you'll save by shopping with Automotix for your Arizona insurance policy.
Here are some of the Arizona insurance carriers waiting for your business: