This complete guide is filled with valuable tips on how to buy used parts, where to look for quality salvage parts, how best to determine a fair price, ways to validate salvage yards, and how not to get ripped off by fraudulent wrecking yards. A must have for anybody buying parts.
Get your copy now!
Auto Parts, Lights, Wheels, Engines..
Car Insurance Arkansas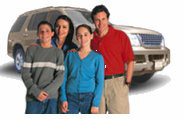 Car Insurance Arkansas
As of 2005 Arkansas had almost 2 million passenger vehicles insured and of course this means that over 2 million policies are written every year and that the insurance agencies are very competitive. In 2005 the average consumer, spent close to $700 a year for insurance, this is lower than the national rate of just over $800. Automotix has now made it easy for consumers in Arkansas to comparison shop for the lowest rate on their personal insurance policy for their automobile.
Arkansas Minimum Requirements

In Arkansas, you must carry liability insurance with the minimum of 25,000 per person for personal injury with a max of $50,000 per accident, and $25,000 to cover property damage. When you think about what a hospital stay can cost, you will realize that $25,000 per person will not cover much, so you may think about increasing your liability insurance values to be sure that you're adequately covered. You can now get insurance quotes to compare not only liability but also comprehensive and collision, right here online, at Automotix.
Noncompliance Arkansas State Insurance Laws

It's important when getting quotes for your Arkansas liability automotive insurance that you use the same variables. You'll simply enter some personal information, an approximate driver's record (use the same one for all insurance quotes), information concerning the vehicle you would like to insure, and the amount of insurance you would like to carry, again, use the same amounts for each quote. You will then be given quotes from several different insurance agencies, and you will be allowed to comparison shop for your Arkansas automotive insurance, possibly saving you quite a bit of money. Be sure, should you upgrade your liability insurance that you use the same variables for each different quote.
Arkansas uses the title and the VIN number of your automobile to ensure that it is insured while on the streets of Arkansas. Insurance agencies in Arkansas must notify the Office of Motor Vehicles when either a vehicle is insured, or if a vehicle policy lapses or is canceled. The notification of a lapse or cancel policy will arrive at the OMV within 30 days and at that time your registration on your Arkansas vehicle will be suspended. You will have to prove that you have liability insurance before your vehicle registration will be renewed. Also, should Arkansas OMV find that the VIN number on your vehicle does not match the VIN number on your policy, it will again suspend the vehicle registration.
There are many ways to save on your Arkansas insurance premium. If you're found at fault in an accident, be sure to review the damage to the vehicles and decide if you can afford to pay for it your self, the more claims you have against your insurance policy, the higher your rates will go. Also, if you're looking for less expensive insurance stay away from large SUVs, sports cars, very small cars, high horse power vehicles, and added technology vehicles. These types of vehicles will cost more to insure. By taking these small steps to defray insurance premiums, and comparison-shopping, you can actually save quite a bit of money.
Automotix Offers Free Insurance Quotes for Arkansas Residents

Here at Automotix, we have put together an easy and simple form to get insurance quotes from many different Arkansas insurance agencies. This allows you, the consumer, to comparison-shop all on one website. It's very hard not to go ahead and fill in the small bit of information needed to find out how your rates on insurance in Arkansas compare to other companies rates for Arkansas liability insurance. So go ahead, enter a few variables, and find out exactly where you stand on your Arkansas automobile insurance and see if you can save money on your Arkansas automotive insurance.
Here are some of the Arkansas insurance carriers waiting for your business: