This complete guide is filled with valuable tips on how to buy used parts, where to look for quality salvage parts, how best to determine a fair price, ways to validate salvage yards, and how not to get ripped off by fraudulent wrecking yards. A must have for anybody buying parts.
Get your copy now!
Auto Parts, Lights, Wheels, Engines..
Car Insurance California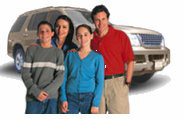 Car Insurance California
California has a whopping 24 1/2 million passenger vehicles insured, this means that over 24 million automotive insurance policies are written every year. You can bet that the automotive insurance market in California is extremely competitive. In 2005, the average automotive insurance expense was $845 per policy, that's just above the national average of $829 per policy. California saw a decreased between 2004 and 2005 of .3% in insurance policy rates, which means Californians paid just under three dollars per policy less in 2005.
California went from 17th place to 18th place in insurance expense from 2004 to 2005; this means that California became the 18th expensive state for insurance premiums during the year 2005. What this means to you the consumer is that it's best to comparison shop for your automotive liability insurance. Here at Automotix we've made it simple to comparison shop with many different California insurance agencies at one time.
California State Requirements

In California, you must carry state-mandated liability insurance that covers $15,000 per injury/death or a $30,000 total per collision and at least $5,000 for damage to property. California also has matured driver discounts if you are over the age of 50. You may receive mature driver's discounts, if you take a mature driver class offered by several organizations, approved by the DMV. There are also low cost insurance rates in California. In certain counties you may qualify for low cost insurance if you are 19 years of age or older, been driving for three or more years, meet low income guidelines and if you have a good driving record. It's important to take advantage of these state discounts to get the lowest possible rate on your California automobile insurance.
Noncompliance California State Insurance Laws

You will need to show proof of insurance anytime that you are pulled over by a California Police Officer, when you first register a new vehicle in your name, and should you be involved in a traffic accident. Should you not be able to show proof of insurance when you are in a collision or accident your driver's license will be suspended in California. If you cannot produce your California liability insurance proof when pulled over, you may receive a steep fine of not less than $500 and possible court costs and your vehicle may be impounded. So keep your insurance up to date on your California automobile, and don't forget to shop for the best possible rates, here at Automotix.
Ways to Keep Your California Insurance Premium Low
There are many ways to defray the costs of expensive automotive insurance in California. Take advantage of any discounts allowable to you, stay away from high horse power vehicles, large SUVs, sports cars, very small cars and vehicles with added technology or vehicles that are on a theft list, and of course comparison-shop.
You'll also want to access any damage done when you are involved in a collision. You'll want to realize whether you can pay for this collision damage your self or whether you have to get your insurance company involved. The fewer calls or claims on your insurance record means that your insurance will stay low. Every time you contact your insurance agency about a collision or a claim, it is recorded, and enough records and your insurance rates will increase. So evaluate any collision damage before you call your insurance agency, and only use them when you really need them.
Automotix Offers Free Insurance Quotes

Getting comparison rates for your California automobile insurance is as simple as filling in a few fields. You will need to enter some personal information, information concerning the vehicle that you need to insure, and an approximate driver's record. Be sure to use all the same variables for the different quotes that you're going to receive from Automotix insurance quotes, this will give you a fair comparison rate. You may want to upgrade from the standard liability rates for California, $15,000 doesn't go far for a serious accident that requires a hospital stay and of course $5,000 does not cover much in property damage.
Automotix has made it easy to get the best rates on your California automobile. Take the time to fill in a few fields and see how much money you can save on your automobile insurance by comparison shopping online, in the convenience of your own home, on your time schedule.
Here are some of the California insurance carriers waiting for your business: