This complete guide is filled with valuable tips on how to buy used parts, where to look for quality salvage parts, how best to determine a fair price, ways to validate salvage yards, and how not to get ripped off by fraudulent wrecking yards. A must have for anybody buying parts.
Get your copy now!
Auto Parts, Lights, Wheels, Engines..
Car Insurance Colorado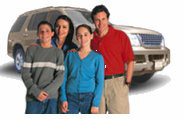 Car Insurance Colorado FAQs
Colorado has or 3.3 million passenger vehicles insured with the average consumer spending $827 per year on automotive insurance. This figure from 2005 is down by 2.6% from 2004. This meant a savings of approximately $25 for consumers in Colorado on automotive insurance. In 2005 Colorado was the 21st most expensive state in the union, which dropped from the 16th most expensive state in 2004. Having 3.3 million insurance policies written every year in Colorado means that the insurance market is extremely competitive.
Colorado Minimum Requirements

In Colorado, it is state-mandated that you have a certain amount of liability insurance on any vehicle that is on the streets of Colorado. This liability coverage is considered 25/50/15 coverage. Also known as 25,000 per injured person with a max of $50,000 per accident and property damage liability coverage of at least $15,000. $25,000 does not cover much of a hospital stay, so if you'd like to be adequately covered you may want to up the values on your Colorado liability insurance.
Noncompliance of Colorado State Insurance Laws

Colorado is rather picky about ensuring that all motor vehicles are covered adequately that use Colorado roads and highways. In 1997, the Colorado legislature enacted a tracking program to ensure that all vehicles were properly insured. At that time your insurance agent would notify the state that you were adequately covered or even if you cancelled a policy and may be driving without coverage. In 2006, Colorado legislature removed this enforcement although insurance companies must still notify the state of new policies and cancellations but they no longer notify drivers.
Should you be found without proof of insurance in Colorado, you will be fined a minimum of $500 and have four points attached to your driver's record. Enough points, and your insurance rates increase. Should you be stopped a second time without proof of insurance, you will be given a minimum $1000 fine and a license suspension of four months, your third time your looking at possible community service of 40 hours or more and a minimum of $1000 fine as well as an eight month suspended license. Colorado takes its insurance liability laws very seriously, so be sure to keep your insurance up to date and have adequate coverage should you be found at fault in an accident.
Ways to Keep Your Insurance Low
Besides comparison-shopping for competitive insurance rates on your Colorado vehicle, you can possibly receive lower rates on your insurance premium for not owning a large SUV, a high horse powered vehicle, a very small vehicle, sports car, or a vehicle with added technology features. You'll also want to stay away from vehicles that are on the top 10 theft lists.
Another way to keep your insurance premium low is to evaluate each individual collision or accident and decide if you can pay for the damage your self. Every time you call your insurance agency with a question about an accident, a collision, or file a claim, it will go on your insurance record. Enough calls or collisions and your insurance premiums will rise. So make good decisions, decide if you can afford to pay for your collision or accident your self and make those decisions before you call your Colorado insurance agency.
Automotix Offers Free Insurance Quotes

Getting an insurance quote has never been easier with Automotix. You will simply fill in a few fields concerning personal information, information concerning the vehicle you'd like to insure, and approximate driver's record, and the values that you would like to be insured at. Be sure to comparison shop for higher liability values to make sure that your adequately covered, it may only cost a few dollars more to increase your insurance liability coverage. Use the same information on all insurance quotes to get a fair comparable rate. Being able to shop in the convenience of your own home, on your time schedule, either early morning, or even late at night can give you comparable auto insurance rates so that you can beat the Colorado $827 average insurance rate. So go ahead and try a few quotes and see how much time and money you'll save using Automotix insurance quotes and let's see if you can lower the average rate for insurance in Colorado.
Here are some of the Colorado insurance carriers waiting for your business: