This complete guide is filled with valuable tips on how to buy used parts, where to look for quality salvage parts, how best to determine a fair price, ways to validate salvage yards, and how not to get ripped off by fraudulent wrecking yards. A must have for anybody buying parts.
Get your copy now!
Auto Parts, Lights, Wheels, Engines..
Car Insurance Connecticut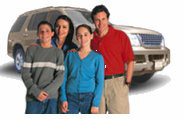 Car Insurance Connecticut FAQs
In 2005, Connecticut had almost 2 1/2 million passenger vehicles carrying at least liability insurance with the yearly average premium of $991. This figure puts Connecticut as the ninth most expensive state for automobile insurance. Should you be above that figure, you may want to do a bit of research and get a few online insurance quotes to discover if you can get below the state average. Here at Automotix, you can get the insurance quote easily and quickly by just entering a bit of information.
Connecticut State Minimum Requirements

In Connecticut it is state-mandated that all vehicles carry at least liability insurance. The minimal levels are $20,000 for body injury, with a $40,000 total for one collision or accident and $10,000 for property damage. As you are probably aware, this minimum liability insurance will not cover much in a serious accident. Hospital stays are expensive, so make sure that you're adequately covered by raising the levels on your liability insurance. This is one way to protect yourself from lawsuits. This liability insurance will not cover damage to your vehicle, so should you have a loan on your Connecticut vehicle you're going to want to get collision damage and possibly comprehensive in order to take care of your own personal Connecticut vehicle.
Noncompliance Connecticut State Insurance Laws

In Connecticut, the Department of Motor Vehicles wants to make sure that at least everyone has liability insurance that drives on their roads. This means that you will have to show proof of insurance should you be pulled over for a traffic violation. Also, the Connecticut DMV will be notified, should you cancel or allow your liability insurance on your registered Connecticut vehicle to lapse. Your insurance agency is state-mandated to notify the DMV of these types of changes in your Connecticut automobile insurance policy. You can now pay for and print your insurance cards right here, online, so make sure you don't allow your insurance to lapse or get canceled. Use an online service to make reoccurring payments and print your insurance cards.
Should you be found in violation of the Connecticut liability insurance law, you can face a $200 fine. And if you refuse to renew your Connecticut automobile insurance, the Connecticut DMV can stop you from being able to register any future vehicles. Using Automotix online insurance companies can allow you to set up a recurring payment plans so that you were never found in violation of Connecticut liability automotive insurance laws.
Ways to Save Money on Your Connecticut Automobile Insurance
There are several ways to save money on your Connecticut automobile insurance. If you'd like to keep your liability insurance premiums below the state average stay away from high horsepower vehicles, large SUVs, very small vehicles, sports cars, luxury vehicles, vehicles on the top theft list, or vehicles with added technology features. These types of vehicles will cost more to insure. Also, you'll want to evaluate any collision or accident damage before you call your insurance agent. Every call or request for claim information will be recorded on your insurance policy, enough claims or calls and your insurance rates may rise. Of course, keeping a clean driving record will also help keep your Connecticut insurance premium low.
Automotix Offers Free Insurance Quotes

Comparison-shopping is the way to get the lowest rate for your personal automobile insurance in Connecticut. Many consumers don't realize how competitive the insurance market is, taking the first premium with their insurance agency. You can now shop for competitive insurance rates here at Automotix. You will simply enter into the fields your personal information, an approximate driver's record, enter in the amount of insurance you'd like to be covered for, and the type of car you'd like to insure. Use the same variables for all of the different quotes that you'd like to receive. You'll get an estimated quote from many different insurance agencies in Connecticut. This will allow you to choose the lowest premium for your personal liability insurance on your automobile.
Although Connecticut is an expensive state to insure your vehicle in, you can now try to lower the state average of $991 by comparison-shopping here at Automotix. It's almost irresistible to click a few links, and see how much money you can save by shopping online for your Connecticut automobile insurance. It only takes a few minutes, and you can shop when you like, either early morning or late at night. So find out if you can save money, and you'll definitely save time by getting online insurance quotes here at Automotix.
Here are some of the Connecticut insurance carriers waiting for your business: