This complete guide is filled with valuable tips on how to buy used parts, where to look for quality salvage parts, how best to determine a fair price, ways to validate salvage yards, and how not to get ripped off by fraudulent wrecking yards. A must have for anybody buying parts.
Get your copy now!
Auto Parts, Lights, Wheels, Engines..
Car Insurance Delaware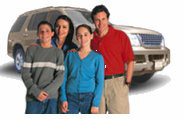 Car Insurance Delaware FAQs
Delaware insurance rates are rated at the eighth most expensive state in the union with an average expenditure of $1022 for automobile insurance. Delaware also is one of the states with the fewest number of passenger vehicles carrying insurance with an estimated 600,000 vehicles.
Delaware has also made it extremely easy for you to find information concerning state-mandated laws by having a website available to the general public via the Internet. Not only does Delaware want you an informed insurance purchaser, but they want to make it easy for you to understand how to save money, conform to their state mandated minimum liability insurance laws and be informed on how to handle accidents. You can find this information at http://www.delawareinsurance.gov/auto/default.shtml#Basics.
Delaware State Minimum Requirements

Delaware has state-mandated that all vehicles driven on Delaware roads carry minimum liability insurance of $15,000 per person involved in a single accident with a maximum of $30,000 for all bodily injuries for a single collision or accident. Also you must carry property damage insurance of up to $10,000 per single accident and personal injury protection also known as PIP, of $15,000 per person and $30,000 per accident. As you are probably aware, $15,000 doesn't go far in a serious collision or accident, and you may want to purchase more coverage, so that you can avoid being attached personally for someone else's hospital bills. If you have a loan, a newer vehicle, or a specialty vehicle you may also want to purchase optional coverage for your Delaware automobile. This optional coverage is called comprehensive and collision coverage and will help to cover your vehicle, should it be damaged. Most consumers don't understand that the automobile insurance market is extremely competitive and one of the best ways to save money is to compare rates with different insurance companies. You can now get insurance quotes online here at Automotix.
Delaware Noncompliance of Insurance Laws.

In Delaware, the Department of Motor Vehicles likes to keep informed concerning insurance on automobiles driven on Delaware roads. Your Delaware insurance provider must notify the DMV if you drop your insurance, cancel your policy, miss a payment or allow your insurance to lapse. Also, the Delaware DMV randomly audits all active, vehicle registrations for compliance on state-mandated Delaware insurance laws. Should you not carry proof of insurance or be found to not carry adequate insurance for your Delaware vehicle, the fines will begin at $100 and go up from there. You can actually find yourself fined for up to $1500 for a first offense and up to $3000 if you get caught and are proven guilty a second time. The DMV also has other penalties such as suspending your driver's license for six months and suspending your vehicle registration.
Ways to Save Money on Delaware Vehicle Insurance
The Delaware insurance commission likes to help its state drivers save money. They offered a defensive driving discount. If all drivers of a particular vehicle, take a defensive driving approved course, you can get a discount on your Delaware automobile insurance. This is just one way to save on your Delaware automobile insurance. You can also save money by staying away from high horse powered vehicles, extremely small vehicles, large SUVs, performance vehicles and sports cars, luxury vehicles, and vehicles with added technology. You can often times also get discounts for antitheft devices and airbags. You'll also want to make sure that you're driving record stays as clean as possible, good driver discounts really help keep your monthly premiums low on your Delaware automobile insurance. And of course, keep checking and comparing prices on different insurance agencies, as your record stays clean longer and longer your insurance premiums could drop precipitously.
Automotix Offers Free Insurance Quotes

Getting online quotes for your Delaware automobile insurance is a great way to make sure that you can stay below the state average of over $1000. You'll simply enter into the fields your personal information, information about the car you'd like to insure, an approximate driver's record, and the amounts that you'd like your Delaware vehicle insured for. You'll get quotes from several different companies and can compare insurance premiums to get the lowest rate for you and your family. Don't forget to check on discounts such as multiple car policies, good student drivers discount, mature drivers discount, antitheft and air bag equipment discounts, good driver discounts and higher deductibles. These deductibles can lower your premium by quite a bit, so compare, and add any discounts you qualify for and then pick the highest deductible that you can afford.
So take the time to compare prices here at Automotix. We've made it easy for you to get insurance quotes and help lower Delaware's eighth most expensive state rate by getting automobile insurance for less.
Here are some of the Delaware insurance carriers waiting for your business: