This complete guide is filled with valuable tips on how to buy used parts, where to look for quality salvage parts, how best to determine a fair price, ways to validate salvage yards, and how not to get ripped off by fraudulent wrecking yards. A must have for anybody buying parts.
Get your copy now!
Auto Parts, Lights, Wheels, Engines..
Car Insurance Florida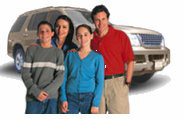 Insurance Florida Facts
Florida auto insurance is ranked as the #6 most expensive in the nation, with an average expenditure of $1063 in 2005. With almost 11 million vehicles insured in Florida, and being a rather expensive State, you can bet that shopping for insurance for your vehicle can save you money.
Florida Insurance Requirements

Florida has financial responsibility law, which means that if you have a crash involving injuries that you have caused, your driver's license has been suspended for too many points, or you have a DUI, or a revocation of your license for habitual traffic offenders, you will have to carry minimum state-mandated coverage of 10,000 for body injury for one person, $20,000 for bodily injury for two or more people and $10,000 for property damage. As you all know $10,000 per person can be eaten up quickly with a hospital stay, so you may want to up your minimum requirements.
Noncompliance with Florida State Insurance Laws

Your insurance agency must notify the Department of Motor Vehicles of any events on your insurance account, including non-renewal, renewal, or cancellations by you or your insurance agency. This means that should you switch insurance agencies, or have any other events on your automotive insurance, you must notify the DMV and provide proof of another policy. In Florida, you also must carry no fault coverage. This is for $10,000 personal injury protection and $10,000 for property damage. This is to cover you and any damage you cause. If you fail to carry no-fault insurance of the state-mandated minimums, you can be fine $150 and lose your license for up to three years, and that's just for the first offense. Your second offense of no coverage, you'll pay $250, and if it's happened within a three-year time span, and if you get caught for the third time, you'll pay $500. So be sure to get quality quotes for your automotive insurance in Florida, so you don't lose your license.
Miami, Jacksonville, Tampa, St. Petersburg, Hialeah, Orlando, Fort Lauderdale, and Tallahassee Insurance Facts
In Miami Florida there were 23,760 auto thefts, including the Toyota Camry, Honda Accord, Ford Taurus, Honda Civic, and the Dodge Caravan. With that many thefts in one city, you may want to stay away from insuring these vehicles, vehicles with a high theft rates are more costly to insure.
In Jacksonville, Florida there were 134 fatal car crashes in 2004. When you insure your vehicle, you'll want to notify the company that you have safety devices such as airbags, seat belts, antitheft devices, and whether you have taken defensive driving courses. All of these items will help keep your insurance for your Jacksonville, Florida vehicle a bit lower.
In Tampa, Florida, the average travel time to work is just under 23 minutes; this means that twice a day, you will be in heavy traffic, and hopefully driving defensively so you don't become an insurance statistic in Tampa, Florida. By driving a vehicle that is not on the most stolen vehicle list in Florida, has safety features, and is not a sports car or high-powered vehicle, you can save money on your insurance premium.
In St. Petersburg, Florida, there were 36 vehicles involved in 23 fatal car crashes in 2004. Learning to drive defensively as well as having safety features with your vehicle, and possibly even taking safe driver's courses can keep your driver's record clean, and also save you money on your automotive insurance, not to mention possibly save lives.
In Hialeah, Florida 1821 cars were stolen in 2004, whether you own an automobile on the most stolen vehicle list, or another vehicle. You can often times get discounts on your insurance for having antitheft devices.
Orlando, Florida has an average commute of just over 25 minutes, and over 9000 vehicles stolen in 2005. While commuting is unavoidable, driving a car that is on the most stolen vehicle list can raise your insurance premium. Florida's most stolen vehicle list includes the Ford Taurus, Jeep Cherokee and Grand Cherokee, the 2004 Dodge Ram pickup, the Ford F150 so that all possible, avoid these vehicles and keep your insurance premium a bit lower.
Fort Lauderdale Florida as a slightly less commute at 24 minutes and less vehicles stolen by quite a bit at 1004 in 2004. Again, antitheft devices, safety devices and owning a car that is not on the 10 most wanted thieves list can help reduce your insurance premiums.
In Tallahassee Florida in 2004 there were 25 fatal car wrecks involving 52 people and 36 vehicles. You can get a reduction in your insurance premium by taking a safe driver's course or a defensive driving course. This will not only help you drive safe and have less claims on your insurance, but quite possibly will save lives.
Automotix Offers Free Insurance Quotes for Florida Residents

Here in Automotix we have made getting insurance quotes easy and efficient. You'll simply enter your ZIP code and a bit of personal information and information about the vehicle you'd like to insure and you can get quotes within minutes. Shopping and comparison-shopping for insurance in Florida can wind up saving you hundreds of dollars on your insurance premium. So if you own one of the almost 11 million cars in Florida, take the time to comparison-shop for insurance and be sure to add all of your safety features, driving courses, and try to keep your driving record clean for the lowest insurance premium possible.
Here are some of the Florida insurance carriers waiting for your business: