This complete guide is filled with valuable tips on how to buy used parts, where to look for quality salvage parts, how best to determine a fair price, ways to validate salvage yards, and how not to get ripped off by fraudulent wrecking yards. A must have for anybody buying parts.
Get your copy now!
Auto Parts, Lights, Wheels, Engines..
Car Insurance Georgia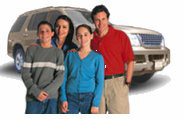 Georgia Insurance Facts
Georgia has almost 6 1/2 million cars insured every year, with an average rate in 2005 of $784 per year. With 6 1/2 million policies written every year, you can bet the Georgia insurance market is competitive. This means that you should comparison-shop for insurance rates on your Georgia automobile. Automotix has made it easy to get comparable quotes for your automobile insurance.
Georgia Insurance Requirements

Georgia requires all automobiles to be insured with liability insurance. You must carry at least $25,000 per person for bodily injury, $50,000 total per accident for bodily injury and $25,000 per accident for property damage. Georgia also requires all insurance agencies to report to the Department of Revenue concerning your personal automobile liability insurance. Although today's technology offers Georgia police department's access to your insurance record, it is still best to carry proof of insurance. This can be a receipt for payment, declaration page, or even a complete copy of your Georgia automobile insurance. And should you decide to travel out of state, you will definitely want proof of insurance.
Noncompliance Georgia State Insurance Laws

If you allow your vehicle insurance to lapse, you can be fined a $25 lapse fee and a $60 fee for reinstatement. Should you be caught a second or a third time, the penalties increase, and you can actually have your vehicles registration suspended for up to six months. Georgia considers a lapse of 10 days or more without insurance to be finable, so be sure to keep your insurance premium up to date, try to keep your insurance record clean, and shop for the lowest rates, here at Automotix.
Atlanta, Columbus, Augusta, Savanna, Athens and Sandy Springs Insurance Facts
In Atlanta, Georgia, there were almost 28,000 vehicles stolen just in the city of Atlanta and the surrounding areas. This means that anti-theft devices, and owning a car that is not on the most stolen vehicle lists can actually save you money on your premiums in Atlanta, Georgia.
In Columbus, Georgia, there were 25 fatal car crashes involving 86 people and 41 vehicles in 2004. Taking safe driving courses or defensive driving courses in Columbus, Georgia can help lower your automobile insurance premiums as well as help keep you safe.
In Augusta, Georgia over 2000 vehicles was stolen in 2005 some of the vehicles on the most stolen vehicle lists in Georgia include the Ford Econoline E150, the GMC Jimmy, the Toyota Tacoma, the Acura TL, Acura Legend and the Jeep Wrangler. Staying away from the 10 most stolen vehicle lists in Augusta, Georgia can save you money on your insurance premiums.
In Savanna, Georgia the average commute in 2004 was just over 21 minutes, you can't avoid a commute, but you can keep yourself a bit safer by taking defensive driver courses, and be sure that you have the latest technology and safety features such as airbags, seat belt, and side-impact bags. All of these items will also help you keep lower insurance premiums in Savanna, Georgia.
In Athens Georgia, the average speed was 50 mph in the 10 fatal car crashes that Athens, Georgia had 2004. By keeping your Athens Georgia driver's record clean, taking safety courses, and having safety features installed in your vehicle you can avoid being involved fatal crashes in Athens, and also have lower insurance premium.
In Sandy Springs, Georgia there was just over 500 auto thefts in the city and surrounding areas in 2004. Be sure to park your vehicle in a lighted lot, and having antitheft devices can help keep your insurance premiums low as well is staying away from one of the most ten stolen vehicles in Georgia.
Automotix Offers Georgia People Free Automobile Insurance Quotes

Automotix has made it easy for you to comparison shop, and add any insurance lowering items or driver's courses you may have for your Georgia automobile mandatory insurance. You'll simply enter your ZIP code, a bit of personal information, and information concerning the vehicle you would like coverage for. Within a few minutes, you'll get several different quotes from different companies so that you can comparison shop for the lowest Georgia premium insurance rates. Automotix believes that comparison-shopping is the way to get the lowest premium for your automotive insurance, so enter the variables and find out how much money you'll save by comparison shopping with Automotix on your Georgia insurance premiums.
Here are some of the Georgia insurance carriers waiting for your business: