This complete guide is filled with valuable tips on how to buy used parts, where to look for quality salvage parts, how best to determine a fair price, ways to validate salvage yards, and how not to get ripped off by fraudulent wrecking yards. A must have for anybody buying parts.
Get your copy now!
Auto Parts, Lights, Wheels, Engines..
Car Insurance Hawaii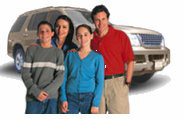 Hawaii Insurance Facts
In Hawaii, the average expenditure per passenger automobile insurance is $843 and the Islands have over 770,000 vehicles insured yearly. Automotix makes it easy to comparison shop for automobile insurance in Hawaii.
Hawaii Insurance Requirements

Hawaii carries state-mandated "no-fault" insurance. What this means, is that when it comes to bodily injury your no-fault insurance will cover you and your passengers, but not your vehicle. Your vehicle will be covered by the insurance carried by whoever is found to be at fault in the accident. This Hawaiian "no-fault" coverage is a bit confusing. Basically, your personal injuries will be covered, no matter who is at fault from your own insurance company. Damage to vehicles or property will be covered by the insurance of who is found at fault in an accident or collision. So in essence, Hawaii "no-fault" insurance is only good for personal injury.
Hawaiian state-mandated liability minimums are $20,000 per person and $40,000 per accident for bodily injury, $10,000 per accident for property damage and $10,000 personal injury protection. Also known as 20/40/10/10. An accident can be expensive, whether you're injured, or it's just your vehicle that has been damaged. Carrying the minimum requirements, often times does not cover the damage or personal injury, so you may want to up sure its coverage. You may find that it only cost a few more dollars to raise the limits on your Hawaiian liability coverage. You can now enter the minimum requirements or up the minimum requirements. Here at Automotix, you can discover exactly how expensive it would be to be covered by more than the minimum by entering in a few variables and comparison-shopping for your Hawaiian automobile insurance.
Noncompliance Hawaii State Insurance Laws

In Hawaii should you be caught without the state mandated minimum liability you can be ticketed and fined. You must carry an insurance identification card in your motor vehicle in Hawaii at all times. This card is issued from the insurance company that you have chosen to purchase automobile insurance from. Some companies actually allow you to pay and purchase your insurance online allowing you to print out insurance cards for each vehicle that you have insured in Hawaii.
Honolulu, Hawaii Insurance Facts
In Honolulu, Hawaii over 5600 cars were stolen in 2005, the most stolen vehicles in Hawaii include the Honda Accord, Honda Civic, Dodge Caravan, Toyota Camry, Acura Integra, Toyota pickup, Dodge Ram Pickup, the Dodge Caravan and the Nissan Sentra among others. Owning one of these vehicles can make your Hawaiian insurance premiums a bit higher, so when shopping for a new car, be sure to check the most stolen car list for Hawaii and avoid those particular cars. You can also avoid higher premiums by not owning sports cars, high powered vehicles, very small cars, luxury vehicles, or vehicles with added technology features. All of these vehicles in Hawaii will cost you more for your insurance premiums.
Automotix offers Hawaii Residents free Insurance Quotes

Automotix has made it easy to comparison shop online for your motor vehicle insurance in Hawaii. You'll simply enter a bit of information about your self, your driving record, the vehicle you'd like to ensure, and the amount of insurance you'd like to purchase. Be sure to use the same variables for all comparison-shopping for automobile insurance as this will be a fair representation of each premium from each company. Taking the time (and it just takes a few minutes) to comparison shop for your automobile insurance in Hawaii can actually save you hundreds of dollars per year. So enter a few variables, comparison-shop and find the lowest premium for your vehicle insurance in Hawaii from Automotix.
Here are some of the Hawaii insurance carriers waiting for your business: