This complete guide is filled with valuable tips on how to buy used parts, where to look for quality salvage parts, how best to determine a fair price, ways to validate salvage yards, and how not to get ripped off by fraudulent wrecking yards. A must have for anybody buying parts.
Get your copy now!
Auto Parts, Lights, Wheels, Engines..
Car Insurance Idaho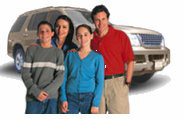 Idaho Insurance FAQs
In Idaho, the average consumer pays $583 a year for automobile insurance. Idaho is actually the 48 least expensive State to purchase automobile insurance and has just over one million passenger vehicles insured yearly.
Idaho's State Law Requirements

It is interesting to note the fact that in Idaho the law requires that anyone who will operate a motorized vehicle whether registered or not, must carry liability insurance with a minimum coverage of $25,000 for injury or gas, $50,000 totaled for two or more people and $15,000 for property damage. This includes every driver, rider, or any vehicle operated on the roadways of Idaho.
Also in Idaho when you register your vehicle, you will be asked to sign a statement notifying the DMV that your vehicle is and will continue to be insured as required by Idaho code. Although you are not required to show proof at the time that you register or re-register your vehicle. The signing of the certificate shows proof of financial responsibility should you cause an accident or collision. Your insurance must cover the complete duration of the annual registration of your vehicle, so be sure that your insurance company can provide correct dates for your insurance.
Noncompliance Idaho State Insurance Laws

In Idaho should you be found guilty of not carrying insurance on your registered or unregistered vehicle that was on the road in Idaho, you will be required to show financial responsibility for one year as a first-time offender, should you be caught again in Idaho, violating these laws within a five-year period, you will be required to provide financial responsibility for up to three years. In the long run it's actually cheaper to carry liability insurance than it is to get caught in Idaho without automobile insurance.
Boise, Napa, Lewiston and Coeur D'Alene Idaho Insurance Facts
In Boise, Idaho, just about 500 vehicles were stolen in 2005 those vehicles included the Honda Accord, Honda Civic, Ford F1 50, Ford Ranger, Toyota pickup Dodge Ram pickup, Ford Explorer and other vehicles. Should you choose to own one of these top 10 stolen vehicles in Boise, Idaho you may find that your insurance premium cost more than if you were to own a different vehicle.
In Napa Idaho, the average commute is approximately 21 minutes, this means that you'll be on the road quite frequently on a daily basis and should carry enough insurance to not only cover the minimum, but to also cover your vehicle, should it be damaged or should you have to be in the hospital for a long stay.
In Lewiston, Idaho, they have a low theft rate; in 2005 only 71 vehicle thefts happened in Lewiston Idaho and the surrounding areas. You may find if you garage your vehicle, park in a lighted and secure parking area, and have antitheft devices, that your insurance premium may be less. Taking the time to comparison shop as well as purchasing secure parking, antitheft devices, or parking your vehicle securely at night or in a garage can save you hundreds of dollars, through Automotix comparison-shopping.
In Coeur d'Alene, Idaho, in 2004 there were two fatality crashes with a total of eight people involved and four vehicles. There are several ways to help keep yourself safe on the highways of Coeur d'Alene. Idaho. You can take defensive driving courses, safe driving courses, and be sure that the safety features are functioning within your vehicle. All of these items will help keep your Coeur d'Alene Idaho insurance premium low and keep you safe on the road.
Automotix Offers Idaho Residents Free Insurance Quotes

You can now comparison-shop for your Idaho insurance premiums right here online at Automotix. You'll simply enter a bit of personal information, information concerning the vehicle you'd like to insure, and the type of insurance you like to be covered for. Within a few moments you'll get insurance premium quotes and be able to compare with different companies. Be sure to use the same variables for each comparison, this will keep your insurance comparison fair. It just takes a few moments, so see how much money you can save by using Automotix insurance quotes for Idaho insurance
Here are some of the Idaho insurance carriers waiting for your business: