This complete guide is filled with valuable tips on how to buy used parts, where to look for quality salvage parts, how best to determine a fair price, ways to validate salvage yards, and how not to get ripped off by fraudulent wrecking yards. A must have for anybody buying parts.
Get your copy now!
Auto Parts, Lights, Wheels, Engines..
Car Insurance Illinois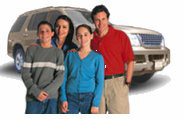 Illinois Insurance Facts
In Illinois, the average consumer pays $743 per year for insurance on their vehicles and with over 7 1/2 million vehicles insured every year, you can bet the Illinois automobile insurance market is very competitive.
Illinois Insurance Requirements

Illinois makes it simple to understand their insurance laws. Any vehicle that has a license plate, and is used on Illinois roads have to be insured. This includes all vehicles except trailers. You must carry it with $20,000 for injury or death, $40,000 maximum per accident for injury or death and $15,000 for damage to personal property. If you are found at fault in an accident, $40,000 medical coverage will not cover a lengthy hospital stay for any individual that you may have injured. It's best to comparison shop and find out what it would cost to be adequately cover with higher values for your liability insurance in Illinois.
Noncompliance, Illinois Vehicle Insurance
While driving in Illinois, it is mandated that you have liability coverage, and if you are caught without insurance. There is a minimum fine of $500 and $100 feet to reinstate the registration of the license plates on your vehicle. With these kinds of fees it's easiest to actually carry liability insurance than it is to try to break the law. Illinois also has random insurance screening. This means it should you be chosen in a random screening that you must prove that you have insurance by filling in a verification form, should you fail to provide this verification form, it can result in the suspension of your vehicle registration.
Chicago, Naperville, Springfield and Waukegan Illinois Insurance Facts
A Chicago, Illinois 328 Allison vehicles were stolen in 2005. Most of these vehicles were passenger vehicles with no trucks making the top 10 stolen vehicle is. These passenger vehicles included the Oldsmobile Cutlass, Toyota Camry, Chevrolet van, Ford Taurus, Dodge Intrepid, Dodge Caravan, Chevrolet Capri, and others. Should you own one of these vehicles in Chicago, Illinois you may find that short insurance is higher than the national average for Illinois.
In Naperville, Illinois, there are only 88 auto thefts in Naperville and surrounding areas, with a top 10 list being the same as Chicago, Illinois. Besides not owning one of these top 10 theft vehicles, you can also garage your vehicle, install antitheft devices, or park in a secured parking area. Any of these items will help lower your premium in Naperville Illinois.
In Springfield, Illinois, the average consumer commute was 17.2 minutes, and this means that you must be on the road on a daily basis. You can still lower your insurance premium rates in Springfield, Illinois by making sure that all safety features are active in your vehicle, taking defensive driving courses, and driving a vehicle that is not on the most stolen vehicle list in Illinois.
In Waukegan Illinois in 2004 there are five fatal car crashes in Waukegan alone, not including any surrounding cities. Of those five fatalities there was a total of 14 people involved and eight vehicles. You can avoid being a statistic in Waukegan Illinois. By learning to drive safely, keeping your driver's record clean, and making sure that all safety attributes in your vehicle are working properly. You'll also find the taking care of these items will keep your insurance premiums a bit lower than the national average in Illinois.
Joliet and Aurora, Illinois Insurance Facts
In Joliet Illinois, the average consumer is on the road 28.9 minutes for their daily commute. In 2004 there were six fatal car crashes involving 17 people and 12 vehicles, so staying safe on the road is important. When it comes to Joliet Illinois insurance, being sure that your adequately covered, should you be involved in an accident or collision and found at fault is important. It doesn't take much to have a large hospital bill after an accident. You can now up the values on your minimum state-mandated liability insurance to be sure that you're adequately covered. Comparison-shopping with higher values is easy here at Automotix, and you can get insurance quotes almost immediately.
In Aurora, Illinois, there were 323 automotive thefts in the year 2004. You can lower your insurance premiums by parking your car in a garage, secured parking area, and even a lighted parking area can lower your insurance premiums in Aurora, Illinois.
Automotix Offers Illinois Residents Free Insurance Quotes

You can now comparison-shop here at Automotix for your Illinois insurance premiums. You can up the variables from the state mandated liability insurance and be sure that your adequately covered. You may find that it only cost a few dollars more to up the values on your personal injury protection, liability, comprehensive, or collision damage premiums. A bit of personal information, information concerning the vehicle you'd like to insure, an approximate driver's record, and the values you'd like to be insured for and your quotes will come almost immediately. So comparison shop with Automotix and see how much money you'll save by purchasing and paying for your auto insurance here online.
Here are some of the Illinois insurance carriers waiting for your business: