This complete guide is filled with valuable tips on how to buy used parts, where to look for quality salvage parts, how best to determine a fair price, ways to validate salvage yards, and how not to get ripped off by fraudulent wrecking yards. A must have for anybody buying parts.
Get your copy now!
Auto Parts, Lights, Wheels, Engines..
Car Insurance Indiana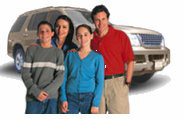 Indiana Insurance Facts
In Indiana, the average consumer rate for yearly automotive insurance is $657 a year in 2005, with a total of 4,266,396 passenger vehicles insured on a yearly basis. This means the Indiana automotive insurance market is extremely competitive and comparison-shopping is a way to save possibly hundreds of dollars a year. It just makes sense to use your Internet connection and Automotix to find comparable rates so that you can have the lowest premium possible for your automobile insurance in Indiana.
Indiana Insurance Requirements

Indiana demands that you have financial responsibility and be able to pay for any costs incurred when you're found at fault with an automobile accident or collision. This financial responsibility is proven through a filing of a bond or a certificate of self insurance or having a $40,000 in cash and securities deposited with the state of Indiana. State minimum insurance in Indiana is at least $25,000 per person and $50,000 per accident as well as having $10,000 worth of property insurance. These minimums are just that minimums and don't necessarily cover a lengthy hospital stay. So you may want to make sure that you're adequately covered with automobile insurance in Indiana by increasing these minimum values.
Noncompliance Indiana State Vehicle Insurance Laws

In certain situations in Indiana, you will have to prove financial coverage if you've been convicted of a traffic offense and also if it's a moving violation, you have two or more moving violation offenses in the past 12 months, or you had your license suspended for failing to show proof of financial responsibility. In any of these situations you will have to prove financial responsibility via insurance or other approved Indiana vehicle code solutions. Should you not prove financial responsibility your license can be suspended for up to 90 days and will be charged a license reinstatement fee. This Indiana reinstatement fee increases with each offense. Your first offense, you'll have to pay $150, if caught a second time it will be $225 and you will lose your license for another 90 days. Should you be foolish enough to be caught three or more times it will cost you $300, and a license suspension. Should this happen twice within a three-year period you will lose your license for one year.
Indianapolis, Evansville, Gary, and Bloomington Indiana Insurance Facts
In Indianapolis, Indiana. Over 8000 vehicles were stolen in 2005. These included the Oldsmobile Cutlass, Chevrolet Capri Buick LeSabre, Pontiac Grand Am, Ford Taurus, and the Ford F150 series pickup truck. Should you own any one of these vehicles you may find that your premiums in Indianapolis, Indiana are higher than the state average..
In Ft. Wayne Indiana, the average commute was 19.9 minutes. Driving a car that is not on the 10 most stolen vehicle list, one that is not high horse power, a very small car, a luxury vehicle, or a vehicle without added technology features will help keep your Ft. Wayne, Indiana vehicle insurance a bit lower.
In Evansville Indiana, there were a total of seven fatalities in 2004 involving 22 people and 11 vehicles. You can stay safer on the road by taking defensive driving courses, making sure all safety features in your vehicle are working properly, and driving a vehicle with a high crash test rating. You may also find that all of these details will lower your automobile insurance premium in Evansville, Indiana.
In Gary, Indiana over 1200 vehicles were stolen in 2004. One of the ways to keep your insurance premium lower is to have antitheft devices installed in your vehicle, garage your vehicle, or park in a secured parking lot. You also may want to avoid owning a vehicle on the top 10 stolen vehicles list for Indiana.
In Bloomington Indiana, there was a total of three fatal car crashes in 2004 involving 10 people and six vehicles. There are several ways to stay safe on the road in Bloomington Indiana. Take defensive driving courses, make sure that your vehicle is in top condition including brakes, windshields, lighting, and mirrors. You may also want to find the test crash rating for your particular vehicle.
Muncie Indiana Insurance Facts
In Muncie Indiana, there were 219 vehicles stolen in 2005, using antitheft devices and parking in a secure parking lot can help keep you from being a statistic of stolen cars in Indiana. You may also find that installing antitheft devices, garage your vehicle, or parking in a secured parking lot can lower your insurance premiums in Muncie Indiana.
Automotix Offers Indiana Residents Free Insurance Quotes

So whether you live in Bloomington Indiana, Kokomo Indiana or Peru Indiana or any other Indiana town, you can now comparison-shop for your automotive insurance and financial responsibility here online. Automotix has made it easy for you to comparison shop for your Indiana automotive insurance. You'll simply enter a bit of personal information, an approximate driver's record, information concerning the vehicle you'd like to insure and the values that you'd like to be insured for. And quotes from different companies will arrive within a few moments, giving you the opportunity to pick the lowest quote, equaling the lowest premium for your Indiana vehicle insurance. So comparison shop with Automotix and see how much money you can save on your Indiana automotive insurance.
Here are some of the Indiana insurance carriers waiting for your business: