This complete guide is filled with valuable tips on how to buy used parts, where to look for quality salvage parts, how best to determine a fair price, ways to validate salvage yards, and how not to get ripped off by fraudulent wrecking yards. A must have for anybody buying parts.
Get your copy now!
Auto Parts, Lights, Wheels, Engines..
Car Insurance Iowa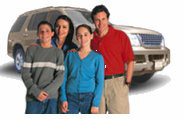 Iowa Insurance Facts
With over 2.3 million vehicles insured in Iowa, and an average consumer yearly premium of $555, Iowa has the second lowest average insurance premium per consumer in the United States. Even with those low rates, you can probably beat the average by comparison shopping for your Iowa automotive insurance.
Iowa Insurance Requirements

Iowa State mandated law requires minimum coverage of $20,000 per injured person with a total of $40,000 per accident and property damage coverage with a minimum limit of $15,000. As you're probably well aware of $20,000 per person per injury does not cover a lengthy hospital stay. So you may want to increase your coverage to make sure that you're adequately covered should you be found at fault in an Iowa collision or accident.
In Iowa once you have filed a motor vehicle accident report, you will have to prove financial responsibility to avoid having your license suspended. You can prove financial responsibility through your documentation of your insurance or your insurance card. If you have no valid insurance in Iowa, you may be able to get a release from all injured or damage passengers and motorists involved in the accident, you may be able to post payment to the ODS, you may repay the involved parties on a payment plan, you may produce proof of a complete settlement from both parties in the accident, or you may request a civil damage action that will release you of all liability for the accident or collision.
Des Moines, Cedar Rapids, Sioux City, Council Bluffs and Ames Iowa Insurance Facts

In Des Moines's Iowa there were over 1100 vehicle stolen in 2005 including the Chevrolet Blazer, Chevrolet full-size pickup, Pontiac Grand Am, Chevy Cavalier, Oldsmobile Cutlass and others. Owning a vehicle that is on the top 10 stolen vehicle list in Iowa will increase your premiums.
In Cedar Rapids Iowa, the average consumer spends 16.6 minutes on their commute. You can reduce your insurance premium by purchasing a vehicle that is not on the 10 most stolen vehicle list, one that is not high horse powered, a very small car, a luxury vehicle, or a vehicle with added technology features.
In Sioux City Iowa, there were five fatality car crashes in 2004 involving eight people and seven vehicles and an unbelievable average speed of 2 miles an hour. You can avoid being a fatality statistic in Iowa by taking defensive driving courses, ensuring that all safety features on your vehicle are working properly, and driving a vehicle with a high crash test rating. You may also find that these items lower your insurance premium in Iowa.
In Council Bluffs Iowa almost 700 vehicles were stolen in the city of Council Bluffs, and the surrounding areas. Purchasing and installing antitheft devices can help you stay out of this statistic and may also lower your insurance premiums.
Although only 74 vehicles were stolen in 2005 in Ames, Iowa, you can still lower your premiums by parking in a secure parking area, garaging your vehicle at night, and installing antitheft devices.
Davenport Iowa Insurance Facts
Davenport Iowa had seven fatality crashes in 2004 involving 15 people and eight vehicles. Defensive driving courses for everyone who drives and your family can help keep you from being a fatality statistic in Davenport Iowa and can also lower your insurance premiums..
Automotix Offers Iowa Residents Free Insurance Quotes

Automotix makes it easy to compare insurance premiums. All you have to do is enter a few variables including personal information, your driver's record, information concerning the vehicle you'd like to insure and the values you'd like to be insured for. Remember that upping the State mandated requirements can help make sure that you're adequately covered. Once you've entered all these variables Automotix will give you many different quotes from different companies. So you can choose the lowest premium for your vehicle available. It only takes a few moments to get an insurance quote from Automotix, so go ahead, see how much money you can save on your Iowa insurance premium.
Here are some of the Iowa insurance carriers waiting for your business: