This complete guide is filled with valuable tips on how to buy used parts, where to look for quality salvage parts, how best to determine a fair price, ways to validate salvage yards, and how not to get ripped off by fraudulent wrecking yards. A must have for anybody buying parts.
Get your copy now!
Auto Parts, Lights, Wheels, Engines..
Car Insurance Kentucky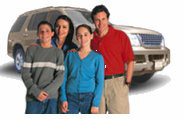 Kentucky Insurance Facts
Kentucky has almost 3 million passenger vehicles insured yearly with an average expenditure of $750 per policy. Kentucky sits in just about the middle of the states for average expense on insurance premiums for passenger cars, ranked at 26th. This means that the insurance market for passenger cars in Kentucky is extremely competitive. By comparison shopping for your Kentucky automotive insurance, there's a good chance you're going to save money.
Kentucky Minimum Requirements

Kentucky has state laws concerning how much liability insurance you must carry in order to drive on Kentucky roads. You must carry at least $10,000 for property damage and 25,000 per person injury with a $50,000 total for broadly injuries. In Kentucky, you must also carry no-fault insurance, this means that you will be covered for up to $10,000 of your out-of-pocket expenses, regardless of who was found at fault in a collision or accident. This no-fault insurance does not allow for a right to sue from either party. Kentucky has a way of avoiding these no-fault insurance coverage limitations; you can file a special form, to refuse no-fault insurance.
A Kentucky insurance company will provide you and your county clerk written proof of your liability insurance coverage. If you were pulled over, you may be asked for proof of insurance. So it's your responsibility to carry proof of insurance in your vehicle at all times. If you were caught without proof of insurance and found guilty, you risk being fined and losing your automobile plates and your driver's license.
Lexington Fayette, Louisville, and Owensboro Insurance Facts

In Lexington Fayette Kentucky, there were over 1000 vehicles stolen in 2005. The top 10 stolen vehicle list in Kentucky includes the Oldsmobile Cutlass, Toyota Camry, Ford F1 50 series, the Chevy 1500 pickup, Ford Explorer, the Chevrolet Blazer, Jeep Cherokee and Grand Cherokee and others. If you own one of these vehicles you may find that your insurance premium is above the Kentucky State average.
A Louisville, Kentucky, the average commute is 20.2 minutes, and in 2004 had 85 fatalities involving 211 people and 140 vehicles, the average speed of vehicles involved in fatality accidents was 35 mph. You can avoid being a Louisville, Kentucky statistic by making sure that all members of your driving family have taken safe driving courses and that all safety features in your vehicles are working properly. You may also find that if you have a vehicle with a high crash test rating that all of these items together will lower your Louisville, Kentucky automobile insurance premiums.
In Owensboro Kentucky, there were 80 cars stolen in 2005. You can avoid high premiums by not driving a vehicle that is high horse power, a sports car, a very small car or owning a vehicle on the top 10 theft list. You can also lower your premiums a bit by installing antitheft devices, garaging your vehicle at night, or parking in a secured parking area.
Hopkinsville, Jeffersontown, Bowling Green Kentucky Insurance Stats
In Hopkinsville, Kentucky, the average commute is 16.9 minutes, and there were three fatalities in 2004 involving 10 people and five vehicles, the average speed for these fatalities was 35 mph. You can avoid becoming a statistic and lower your car insurance premiums by making sure that all members of your driving family have taken safety driving courses, drive defensively, and drive a vehicle that has a good test crash rating.
In Jeffersontown Kentucky, you can lower your insurance premiums by driving a car with a high test crash rating, a car that is not on the top 10 best list, keep your driver's record clean, pay for accidents or collisions your self if you can afford it, and make sure that all drivers have taken a defensive drivers course.
In Bowling Green, Kentuckyin 2004 there were four fatality crashes involving seven people and four vehicles with an average speed during the collision of 30 mph. Bowling Green Kentucky had 241 vehicles stolen in 2005. The best way to save money on car insurance in Bowling Green, Kentucky is to comparison shop with Automotix and stay away from high powered vehicles, very small cars, luxury vehicles, and vehicles on the top 10 theft list.
Automotix Offers Kentucky People Free Insurance Quotes

Automotix has made it easy to comparison shop for Kentucky liability, comprehensive, collision, PIP, and underinsured motorist insurance. You'll simply enter a bit of personal information, information concerning your driver's record, vehicle information, and the amount that you'd like to be insured for. Within a few moments you'll have many different quotes from different companies for your Kentucky automotive insurance. You can then choose the lowest premium possible for your driving situation. It only takes a few moments and you can possibly save hundreds of dollars on your yearly premium for your Kentucky automotive insurance by using Automotix insurance quotes
Here are some of the Kentucky insurance carriers waiting for your business: