This complete guide is filled with valuable tips on how to buy used parts, where to look for quality salvage parts, how best to determine a fair price, ways to validate salvage yards, and how not to get ripped off by fraudulent wrecking yards. A must have for anybody buying parts.
Get your copy now!
Auto Parts, Lights, Wheels, Engines..
Car Insurance Louisiana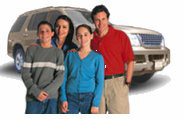 Louisiana Insurance Facts
Louisiana ranks number five in the most expensive states at $1076 per insured vehicle premium. With over 2 1/2 million passenger cars insured in Louisiana, you can bet that the insurance market is very competitive and comparison-shopping is the way to save money on your Louisiana automotive insurance premium.
Louisiana Minimum State Requirements

Louisiana has state-mandated that you carry minimum liability insurance on your Louisiana vehicle. Louisiana designates mandatory liability by weight of each insured vehicle. If you own a vehicle of 20,000 pounds or less you will need to carry 10,000 bodily injury with $20,000 max and $10,000 property damage. If your vehicle is from 20,001 pounds to 50,000 pounds. You will either have 25,000 bodily injury, $50,000 max bodily injury and $25,000 property damage or you could have a single combined limit of no less than $75,000. If you are driving a vehicle that is over 50,000 pounds, you will have to carry $100,000 bodily injury with $300,000 max bodily injury and $25,000 property damage or can have a combined single limit of $300,000. As you can see the larger your vehicle, the more insurance you must carry in Louisiana.
Noncompliance Louisiana State Insurance Laws
In Louisiana, you must carry proof of insurance in your vehicle and if you're found driving without that proof, the officer will immediately take your license plates and impound your vehicle. You will then have three business days to prove that you have insurance to the office of motor vehicles of Louisiana. Should you not show proof of insurance, your license plates will be destroyed and you'll be required to register your vehicle and show proof of insurance again. In Louisiana, the Department of Motor Vehicles handles all insurance cancellations. If your insurance lapses, your license will be tagged and you will be unable to renew your driver's license or registration until the tag is lifted. You will be fined if you did not show proof of insurance within 10 days, from 11 to 30 days you incur a $50 fine, 31 to 90 days and you will owe $125, if you do not show proof of insurance in 91 days or more you will be fined $225. So with all of this hassle due to cancellations or no insurance you can bet that in the long run it's cheaper to carry liability insurance in Louisiana.
New Orleans, Baton Rouge, Shreveport, and Lake Charles Louisiana Insurance FAQs

In New Orleans, there were over 7000 vehicle thefts in 2005 including the Dodge ram pickup, the Chevrolet 1500 pickup, the Ford F1 50 pickup, Toyota Camry, Honda Accord, Dodge Caravan and others. Avoid being a theft statistic in New Orleans, Louisiana, install antitheft devices, garage your vehicle at night, or pay for secured parking and drive a vehicle that is not on the 10 most stolen vehicle list for Louisiana..
In Baton Rouge, Louisiana in 2004 there were 25 fatality car crashes involving 60 people and 38 vehicles with an average speed of 45 mph per fatality accident. You can not only be a safe driver in Baton Rouge by taking a defensive driving course, owning a vehicle with a high crash test rating, and making sure that all safety features are in a workable order, but also you can save money on your automotive insurance premiums.
In Shreveport Louisiana the average commute is 19.3 minutes, and in 2004 there was 29 fatality car crashes, not including any of the surrounding cities or areas. While being on the road is a necessity in today's times. You can save money on your insurance premium by taking safe driving courses, having safety equipment like seatbelts, airbags, side bags, and driving a vehicle with a high crash test rating. All of these items will not only help you keep safe on Shreveport highways and byways but also there's a good chance your automobile insurance premium will be lower.
In Lake Charles Louisiana, 240 vehicles were stolen in 2005. You can avoid the high premiums of owning a car on the 10 most stolen vehicle list for Louisiana by installing antitheft devices and parking in a secured parking area. In 2004 there were nine fatal car crashes involving 29 people and 14 vehicles with an average speed of 40 mph. Safety features such as seatbelts, airbags and side impact bags help keep you safe during a collision and can also lower your insurance premiums.
Automotix Offers Louisiana People Free Car Insurance Quotes

Automotix has made it easy for you to comparison shop for low premium rates on your automobile insurance. You'll simply enter in some personal information, information concerning the vehicle that you'd like to insure, an approximate driver's record and any safety features and driving courses that you have taken. You'll then get a multiple quote system that includes quotes from many insurance businesses, and you can choose the lowest premium available for your vehicle and driving record. It doesn't make sense not to comparison shop for insurance premiums in Louisiana, used the Automotix system. It's quick, efficient, and there's a good chance you may save hundreds of dollars on your Louisiana automobile insurance.
Here are some of the Louisiana insurance carriers waiting for your business: