This complete guide is filled with valuable tips on how to buy used parts, where to look for quality salvage parts, how best to determine a fair price, ways to validate salvage yards, and how not to get ripped off by fraudulent wrecking yards. A must have for anybody buying parts.
Get your copy now!
Auto Parts, Lights, Wheels, Engines..
Car Insurance Maryland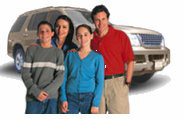 Maryland Insurance Facts
Maryland has almost 4 million insured passenger vehicles and residents pay on average, a whopping $945 a year, for their vehicle insurance. With the roads around Maryland ranked as the second most congested, you can bet that Maryland demands that you have vehicle insurance.
Maryland a Minimum Requirements

State-mandated Maryland liability insurance, uninsured motorist coverage and personal injury protection is needed in order to register your vehicle in Maryland. You must have a minimum of $20,000 per person for bodily injury with a $40,000 per accident, and $15,000 per accident for personal property damage. Uninsured motorist amounts are exactly the same as liability amounts and you must carry this in order to register your vehicle in Maryland, you also must carry PIP, or personal injury protection of $2500 in Maryland.
Noncompliance Maryland State Vehicle Insurance Laws
In Maryland, should you be found to be driving without insurance, your registration for your vehicle is revoked, and you will need to return the license plates to the DMV. Should you allow your insurance to lapse in Maryland, you will be fined $150 for 30 days and then seven dollars per day after that, so it's best to stay up to date on your insurance premiums in Maryland.
Baltimore, Silver Springs, Ellicott city, and Columbia, Maryland Insurance facts

In Baltimore, Maryland, the population in 2006 was just over 640,000 and that puts a lot of vehicles on the road. You can save money on your insurance by taking defensive driving courses, driving a vehicle that is not on the 10 most stolen list, and making sure that all safety features in your vehicle are operable. Baltimore had over 11,000 vehicles stolen in 2005, including the Honda Accord, Dodge Caravan, Honda Civic, Plymouth Voyager and others. You can reduce your theft risk by using antitheft devices, parking in a garage, or parking in a lighted secure parking lot.
Silver Spring, Maryland is the third most population dense area in Maryland according to the 2000 census, and is considered the second most populous city in Maryland after Baltimore, with a population of just over 76,000. In 2004 there were over 700 vehicles stolen in Silver Springs, Maryland. This means that you need to protect your vehicle by parking in a lighted secure area, using antitheft devices, and not owning a vehicle on the 10 most stolen vehicle list. By protecting your vehicle in this way, you will also lower your insurance premiums.
In Ellicott City, Maryland, the population was just over 56,000 during the 2000 census with an average commute up 29.2 minutes. You can save money on your insurance by making sure all drivers in your family take a defensive driver course, driving defensively during your commute, and keeping a clean driver's record.
Columbia, Maryland is the largest unincorporated community with a population of just over 94,000. The average commute time for somebody who lives in Columbia, Maryland is 30.2 minutes, and with three fatality crashes in Columbia alone, it's important that you drive defensively. Be sure to purchase a vehicle with a high crash test rating, make sure that all safety features including seat belts, air bags and side-impact bags are working properly and make sure that all family members take a defensive driving course. Taking care of these items will also lower your premiums on your Maryland state-mandated vehicle insurance.
Automotix Offers Maryland Residents Free Insurance Quotes

Maryland insurance rates are extremely competitive due to the population of Maryland; this is a good thing as a consumer of vehicle insurance. You can now comparison-shop for your vehicle insurance, here at Automotix. You can get a multitude of insurance quotes within minutes by simply filling in a bit of personal information, information concerning your driver's record, and information concerning the vehicle that you'd like to insure. Getting comparison quotes allows you to pick the lowest premium for your vehicle insurance in Maryland, so get a few quotes and see how much money you'll save by using the Automotix insurance quote system.
Here are some of the Maryland insurance carriers waiting for your business: