This complete guide is filled with valuable tips on how to buy used parts, where to look for quality salvage parts, how best to determine a fair price, ways to validate salvage yards, and how not to get ripped off by fraudulent wrecking yards. A must have for anybody buying parts.
Get your copy now!
Auto Parts, Lights, Wheels, Engines..
Car Insurance Michigan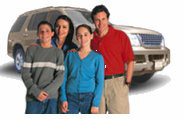 Michigan Insurance Facts
Michigan has 6.3 million passenger vehicles insured every year, with a total population of over 9 million as of the year 2000. Michigan residents pay an average of $931 as of 2004 for insurance premiums.
Michigan State Minimum Insurance Requirements

In 1973 Michigan established no-fault insurance, which means that no matter who is it found at fault in a collision or accident, each vehicle's insurance involved will pay for that vehicle, people and damages. You are required to carry minimum liability coverage of at least $20,000 per person with a total of $40,000 per accident and property damage liability insurance for a minimum of $10,000. You must also carry personal injury protection of at least $10,000 in Michigan.
Noncompliance Michigan State Insurance Laws
In Michigan, if you are caught without a basic no-fault policy on your vehicle, you could be fined up to $500 and spend a year in jail.
Detroit, Grand Rapids, Flint, and Livonia, Michigan Insurance Facts

Detroit, Michigan is the largest metropolis in the state of Michigan, ranking the seventh most populous city, with over 800,000 residents. In Detroit, there was over 104 fatality crashes in 2004 involving 286 people and 148 vehicles with an average speed of 30 mph. Driving defensively in Detroit, Michigan is a must and taking a safe driver's course can help keep you safe on the road and lower your insurance premiums.
In Grand Rapids Michigan,the metropolitan area has almost 800,000 residents with only 197,000 of them living in the actual city. In Grand Rapids, there were 1487 vehicles stolen in 2005. Some of the vehicles on the 10 most stolen vehicles list in Michigan is the Dodge ram pickup, Dodge Caravan, Dodge Intrepid, Ford Taurus and the Jeep Cherokee and Grand Cherokee. Not owning one of these vehicles on the 10 most stolen list, parking in a lighted secure parking area, or garaging your vehicle can help lower your insurance premiums.
Flint Michigan is the fifth largest city in Michigan with a population of 125,000 and a daily commute of an average 23.5 minutes. This means spending time on the road in Flint Michigan on a daily basis. Keep your driver's record clean, by not speeding, following state driving laws, and avoiding collisions and accidents by taking a safe driver's course. A clean driving record helps keep your insurance premiums low in Flint Michigan.
In Livonia Michigan as of the year 2000 the city had a population of just over 100,000 within average commute of 22.9 minutes. In 2005, 283 vehicles were stolen in the city a Livonia, and the surrounding areas. This means using antitheft devices, parking in a secure parking area or garaging your car at night may lower your insurance premiums. Also, don't purchase a vehicle on the 10 most stolen vehicle list in Michigan.
Automotix Offers Michigan Residents Free Insurance Quotes

You can now compare insurance premiums by using the Automotix insurance quote system. You'll simply fill in the fields with a bit of information, and within a few moments you'll have comparable insurance quotes to peruse and choose the lowest premium available. You'll simply enter in a bit of personal information, information concerning your driver's record, and information concerning the vehicle you'd like to insure. Once you've filled in the fields within a few moments you'll have quotes from different insurance agencies in the state of Michigan. Comparison-shopping these days, just makes common sense. So fill in a few fields, and peruse a few insurance premium quotes, and then get the lowest quote possible for your vehicle insurance in Michigan via Automotix.
Here are some of the Michigan insurance carriers waiting for your business: