This complete guide is filled with valuable tips on how to buy used parts, where to look for quality salvage parts, how best to determine a fair price, ways to validate salvage yards, and how not to get ripped off by fraudulent wrecking yards. A must have for anybody buying parts.
Get your copy now!
Auto Parts, Lights, Wheels, Engines..
Car Insurance Minnesota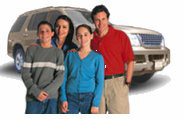 Minnesota Insurance Facts
Minnesota has an average insurance premium of $791, and 3 1/2 million registered insured passenger vehicles. Minnesota is the 12th largest state in the union and the 21st most populous. With a population of over 5 million, meaning that over half of the population has registered insured passenger vehicles in Minnesota, you can bet that the insurance market is extremely competitive
Minnesota State Minimum Requirements

Minnesota is a state with a no-fault system insurance requirement, meaning that each vehicle's insurance will take care of it's personal injury, property, and the vehicle itself if it is insured. You must have a minimum of bodily injury liability coverage of $30,000 per person with a maximum of $60,000 per accident. You must also have property damage liability coverage of the minimum limit of $10,000. In Minnesota, you must also have personal injury protection coverage of up to $40,000, as well as an insured or underinsured motorist coverage of $25,000 per personal injury and $50,000 total per accident.
In order to register your vehicle in Minnesota, you must provide your policy number and insurance company name, by registering your vehicle, you are declaring they you have the minimum liability insurance coverage by Minnesota state law. You also must carry proof of your insurance policy in your vehicle all times, so that you can provide it should you be asked by a police officer. Your insurance agency may give you an identification card proving your insurance, a written statement, or you can carry your insurance policy in your glove box.
St. Paul, Minneapolis, Duluth and Bloomington Minnesota Insurance Facts

St. Paul, Minnesota is the capital of Minnesota and is the second largest city, with almost 300,000 residents as of the 2000 census. St. Paul, Minnesota had 2448 vehicles stolen in 2005, some of the vehicles on the 10 most stolen vehicle list in Minnesota is the Honda Civic, Toyota Camry, Oldsmobile Cutlass, Honda Accord, Buick Century and the Chevrolet full-size 1500 pickup. Should you own one of these vehicles on the top 10 stolen list in Minnesota, you might find that your insurance premiums are a bit higher than the national average.
Minneapolis is the largest city in Minnesota and is the county seat of Hennepin County. Minneapolis-St. Paul area is the 15th largest metropolitan area in the United States with a population of almost 400,000 people as of 2005, you can bet that Minneapolis insurance agencies are extremely competitive. Minneapolis had 3894 vehicles stolen in 2005. You can lower your chance of having your vehicle stolen by installing antitheft devices, not owning a vehicle on the top 10 theft list for Minnesota, and garaging your vehicle or parking in a secured parking area. These items have a good chance of lowering your insurance premiums as well.
Duluth Minnesota had a population just over 86,000 in the 2000 census and swells when you include the suburbs and villages as well as the metropolis area to almost 184,000 people. Duluth constituents have an average commute of 17.1 minutes, and this means time on the road on a daily basis. Not only can you save money on your insurance premiums by purchasing a vehicle that has a high crash test rating, but chances are the miles per gallon will be good and you'll save money there as well. Stay away from vehicles on the top 10 theft list for Minnesota as 651 vehicles were stolen in Duluth in 2005.
Bloomington Minnesota, a suburb of Minneapolis had a population in 2005 of roughly 184,000. Bloomington's average commute time is 20.2 minutes, and in 2004 add four fatalities, involving eight people and six vehicles. Driving safely can actually reduce your insurance premiums. If you obey the laws on a regular basis, your driver's record will stay cleaner and if you take a safe driving course in Bloomington you'll probably get a discount on your insurance premium.
Automotix Offers Minnesota People Free Insurance Quotes

You can now shop and comparison shop for insurance rates for Minnesota by using Automotix insurance quote system. You will simply enter a bit of personal information, information concerning your driver's record, and information concerning the vehicle you'd like to insure. Within a few moments you'll receive comparison quotes from different insurance agencies allowing you to choose the lowest premium offered for your Minnesota required vehicle insurance.
Here are some of the Minnesota insurance carriers waiting for your business: