This complete guide is filled with valuable tips on how to buy used parts, where to look for quality salvage parts, how best to determine a fair price, ways to validate salvage yards, and how not to get ripped off by fraudulent wrecking yards. A must have for anybody buying parts.
Get your copy now!
Auto Parts, Lights, Wheels, Engines..
Car Insurance Mississippi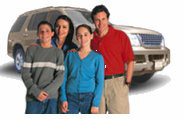 Mississippi Insurance Facts
Mississippi has over 1.6 million passenger vehicles insured, with an average premium of $745 a year. Mississippi is ranked 31st in the Union for population at almost 3 million occupants. This means that almost half the residents of Mississippi have insured passenger vehicles.
Mississippi State Insurance Requirements

Mississippi has mandated that you carry at least 25,000 per person, $50,000 total per accident and $25,000 per accident for property damage liability insurance on any vehicle that you drive on Mississippi Roads.
Noncompliance Michigan State Insurance Laws
You must also carry proof of your insurance in your vehicle at all times in Mississippi, if you are caught without insurance, for your first offense your fine will be $1000 and your license will be suspended for one year or until you provide proof. Of course, the penalties get stiffer on your second and subsequent offenses, if you fail to prove that you've gotten state-mandated liability vehicle coverage.
Biloxi, Gulfport, Jackson and Hattiesburg Mississippi Insurance Facts

Biloxi is located in the southern part of the state of Mississippi, and in the 2000 census had a population of just over 50,000. In 2004 there were 410 vehicles stolen in Biloxi, including the Chevrolet full size 1500 pickup, the Ford F150 pickup, the Buick LeSabre, Oldsmobile Cutlass, Honda Accord, Toyota Camry and the Ford Explorer among others. Should you own one of these vehicles you may find that your insurance premium is higher than the state average. Installing antitheft devices, parking in a secured parking area or garaging your vehicle and not driving one of these vehicles may help you lower your premiums.
In Gulfport Mississippi, the 2000 census recorded a population of just over 71,000 with those residents having an average of 20.2 minute commute on a daily basis. This means time spent on the road and in 2004 there were 13 fatal vehicle crashes involving 39 people and 23 vehicles. You can increase the safety of your time on the road by taking a self defense driving course, maintaining all safety features within your vehicle, using your seatbelt, and driving defensively on a constant basis. You may also find that if you own a vehicle with a high crash test rating that your insurance premiums may drop.
In Jackson Mississippi, the capital and largest city in the state of Mississippi, the 2000 census recorded a population of just over 184,000. Jackson Mississippi had 2687 vehicle stolen in 2005. You can reduce your chances of being a part of that this statistic by installing antitheft devices, garaging or parking your car in a secured parking area, and not owning a vehicle on the 10 most stolen vehicles list. You may also find that if you avoid vehicles on this list that your insurance permits may be lower.
Hattiesburg Mississippi is the fourth largest city in Mississippi and has a population as of 2005 of just over 160,000. For the size of the city, Hattiesburg had a low theft rate of only 270 cars stolen in 2005 but had a total of 39 people involved in the 17 fatalities in 2004. You can avoid being part of that statistic by driving a vehicle with a high crash test rating, taking defensive driving courses, and making sure that all safety features in your vehicle are working properly. You also may notice a drop in your insurance rates should you choose to purchase a vehicle on a high safety list.
Automotix Offers Mississippi Residents Free Insurance Quotes

You can now shop, and comparison shop for insurance rates in Mississippi using the Automotix insurance system. You can get comparable rates from many different companies at one time, so that you can compare your rate of mandatory vehicle insurance and see if you can find a lower premium through a different agency. You're simply going to fill in a few fields concerning personal information, information about the vehicle you're going to ensure, and an approximate driver's record. You'll get an estimated quote within minutes from many different insurance agencies in Mississippi. Within a few days, you'll get an adjusted quote, as the agencies have checked out your driver's record. Automotix makes it easy to comparison shop for insurance online. You can also purchase your insurance online and print, those mandatory proof of insurance cards right from your home printer. So take a few moments and see if you can save money by using the Automotix insurance system to compare rates from different insurance agencies.
Here are some of the Mississippi insurance carriers waiting for your business: