This complete guide is filled with valuable tips on how to buy used parts, where to look for quality salvage parts, how best to determine a fair price, ways to validate salvage yards, and how not to get ripped off by fraudulent wrecking yards. A must have for anybody buying parts.
Get your copy now!
Auto Parts, Lights, Wheels, Engines..
Car Insurance Missouri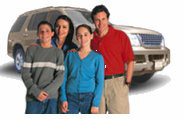 Missouri Insurance Facts
In Missouri, the average person paid $685 in expenditures for vehicle insurance and had almost 4 million passenger vehicles insured last year. Missouri also has almost 6 million people and is ranked 18th in population in the United States and this makes for competitive rates for insurance.
Missouri Insurance Minimum Requirements

Missouri requires that every vehicle driven on the streets of Missouri present proof of financial responsibility. Financial responsibility in Missouri includes an insurance identification card, the actual liability insurance policy, a self- insured identification card issued by the Missouri's Department of Revenue, or a financial responsibility identification card that has been issued also by the Missouri Department of Revenue.
Missouri demands that you carry at least $25,000 per person for bodily injury with a $50,000 per accident cap, and at least $10,000 property damage per accident. In Missouri, you must also carry uninsured motorist coverage of at least $25,000 for injury per person and a $50,000 cap per accident.
Noncompliance Missouri State Insurance Laws
Should you be caught without insurance in Missouri, you may have your driving privileges suspended for up to a year and will only get your license back after you have paid a reinstatement fee and provided proof of a valid insurance policy. You'll also have to provide this prove for three years following the date of your suspension.
Should you have your Missouri driver's license suspended or wind up with a DWI conviction, or found to be at fault for a motor vehicle accident, you will probably have to have an SR 22 form from an insurance company and they will submit it to the Missouri Department of Revenue Motor Vehicle Bureau to prove that you have valid auto insurance.
Kansas City, St. Louis, Independence Missouri Insurance Facts

Kansas City, Missouri was founded in 1838 and is the largest city in the state of Missouri with an estimated population as of 2006 of 447,000. Kansas City has a high theft rate for vehicles including the Dodge Caravan, Dodge intrepid, Oldsmobile Cutlass, Jeep Cherokee, Ford Taurus, and even the Ford F1 50 series pickup. This is just a partial list of the top 10 stolen vehicles in Missouri and in Kansas City, Missouri. Over 12,000 vehicles were stolen in 2005. One of the ways to deter theft in Kansas City, Missouri is to install antitheft devices, park in a secured parking area or garage your vehicle at night, and own a vehicle that is not on the top 10 theft list.
St. Louis, Missouri held the Olympic games in 1904 and was the first city to host the Olympic Games in the United States and an estimated population in July of 2006 with just over 350,000. St. Louis also has a high theft rate for automobiles, with over 13,000 vehicles being stolen in 2005. St. Louis, Missouri also had 50 fatalities from vehicle collisions involving 132 people and 80 vehicles in 2004. You can help yourself stay safe on the roads in St. Louis, Missouri by taking a defensive driving course, making sure all safety features in your vehicle are operational, and constantly staying on the defense while on the roads in St. Louis. Should you take a defensive driving course you may also notice that your insurance premiums drop.
Independence Missouri has a population of just over 113,000 in the year 2000 and is the fourth largest city in Missouri. In Independence, Missouri, the average commute time is 24.1 minutes. You can lower your insurance rates by driving a vehicle with a high crash test rating, that is not high powered, and not a sports car, not a very small car or a luxury car or don't purchased a vehicle with extra technology features. Checking out the insurance premium before you purchase a vehicle in Independence, Missouri can help you decide which vehicle is right for you.
Automotix Offers Missouri People Free Insurance Quotes

You can now compare prices on vehicle insurance using the Automotix insurance system. You'll enter a bit of personal information, information concerning your driver's record and information concerning the vehicle you'd like to insure. Using the Automotix system before you purchase a vehicle can help you to determine if the vehicle is right for you by being able to compare insurance rates against other vehicles. So whether you're trying to purchase a new vehicle or want to shop for better rates on your current insurance, use the Automotix system and get quotes for many different insurance agencies all at once.
Here are some of the Missouri insurance carriers waiting for your business: