This complete guide is filled with valuable tips on how to buy used parts, where to look for quality salvage parts, how best to determine a fair price, ways to validate salvage yards, and how not to get ripped off by fraudulent wrecking yards. A must have for anybody buying parts.
Get your copy now!
Auto Parts, Lights, Wheels, Engines..
Car Insurance Montana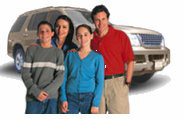 Montana Insurance Facts
Montana residents pay on average $685 a year for vehicle insurance and with over 700,000 vehicles insured yearly, you can bet that there's a lot of money going through Montana insurance agencies and the market is competitive. Montana has the third lowest population density in the United States with a mere one million inhabitants in a total of over 147,000 square miles. This makes for a lot of roads in Montana.
Montana State Minimum Requirements

While driving on the road to Montana, you must carry liability insurance or face stiff fines and possible jail time. You must carry a minimum of $25,000 bodily injury or death, with $50,000 total for one accident and $10,000 property liability insurance.
Noncompliance Montana State Insurance Laws
Montana takes driving without liability insurance very seriously, with penalties for operating an uninsured vehicle for the first time with fines between $250 and $500 and a possible stint in the county jail at 10 days. Also in Montana with your first offense, you will get five points added to your Montana driver's license, if you have more than 30 points on your driver's license in Montana, it can lead to revocation. If you're silly enough to get caught without insurance a second time, Montana will fine you no less than $350 and possibly put you in jail for up to 10 days and your license will automatically be suspended for up to 90 days. So be sure that you have Montana liability insurance any time to drive on the roads in Montana.
Billings, Missoula, Great Falls Insurance Facts

Billings Montana is the largest city in Montana with a population of just over 100,000 as of 2007. Billings Montana had 359 cars stolen in 2005, including the Ford F1 50 series pickup truck, Ford Taurus, Chevy 1500 pickup truck, Ford Ranger Ford heavy-duty pickup truck, Dodge ram pickup, the Chevy Blazer, Ford Explorer and the Honda Civic. These vehicles are on the top 10 most stolen vehicles in Montana list, and it seems that pickup trucks are most popular. You can install antitheft devices, park your truck at a garage or secured lighted parking lot, or you can even choose a vehicle that is not on the top 10 most stolen vehicles list. All of these items in Billings Montana will help lower your insurance premiums.
Missoula, Montana is the second-largest city in the state of Montana, with a population as of the 2000 census of almost 60,000 people. In in 2004 there were nine fatality crashes involving 18 people and 11 vehicles, all at the average slow speed of 25 miles an hour. This tells you that a severe accident can happen at any time, and any speed, and you should make sure you're adequately covered by possibly upping the values on your liability insurance to ensure that should you have a long hospital stay that your bills will be paid.
Great Falls Montana was established in 1884, and as of the 2000 census, the population was almost 60,000. The average commute for Great Falls residents is 13.9 minutes, which isn't long compared to some commutes. You can still save money on insurance, by using a car that has a high crash test rating, and making sure that all of your safety features in your vehicle are working properly. You can also take a safe driver's course and lower your rates on your liability insurance. So whether you're commuting in Great Falls Montana or ranching, be sure that you have adequate insurance and drive in a vehicle that is safe.
Automotix Offers Montana Residents Free Car Insurance Quotes

Automotix Offers Montana Residents Free Car Insurance QuotesYou can now find insurance premiums that may cost you less by using Automotix insurance quote system. You will simply enter a bit of personal information, information concerning your driver's record and information concerning the vehicle you'd like to insure. When you've completed filling in the fields you will be given quotes from different Montana insurance agencies allowing you to choose the lowest premium possible. If you're shopping for a new car, you may want to use Automotix insurance system to discover which cars cost less money to insure, a great tool to discover which car or vehicle may be correct for you and your family
Here are some of the Montana insurance carriers waiting for your business: