This complete guide is filled with valuable tips on how to buy used parts, where to look for quality salvage parts, how best to determine a fair price, ways to validate salvage yards, and how not to get ripped off by fraudulent wrecking yards. A must have for anybody buying parts.
Get your copy now!
Auto Parts, Lights, Wheels, Engines..
Car Insurance Nebraska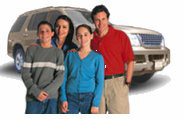 Nebraska Insurance Facts
Nebraska's one of the least expensive states in the union for vehicle insurance with an average of $621 per year. With almost 1.5 million passenger vehicles in the state of Nebraska insured every year, you can bet that the insurance agencies of Nebraska are very competitive. With only 22.3 people per square mile in a total population of 1.7 million as of the census of 2000, Nebraska has wide open spaces, and miles of roadway's.
Nebraska Minimum Requirements

Nebraska, like most states in the union have a state mandated minimum liability insurance requirement on all its drivers. You must carry $25,000 for bodily injury or death with a $50,000 per accident bodily injury liability and $25,000 for property damage.
Noncompliance to Browse the State Insurance Laws
Should you be caught without valid insurance too many times, you may be asked to carry SR 22 certificate of insurance in order to receive a new driver's license. If an SR 22 certificate is mandatory for you to have your license, the Department of Motor Vehicles will track your insurance information via a special system, providing immediate information concerning your financial responsibility and suspending your license if you're certificate of insurance lapses.
Omaha, Grand Island, Fremont In Lincoln, Nebraska Insurance Facts

Omaha, Nebraska, has almost a half a million occupants and is the largest city in the state. Those half-million occupants of Nebraska have an average 18.2 minute commute time daily with 25 fatalities in 2004 involving 68 people and 41 vehicles. There are many ways to help keep yourself safe on the highways and byways of Omaha, Nebraska. Be sure that your vehicle is one that has a high crash test rating, periodically check and make sure that all safety features in your vehicle are working properly, and take a defensive driving course. These items will also help keep your insurance premiums low.
Grande Island, Nebraska had a population of almost 45,000 by the year 2006 and had 104 cars stolen in 2005. The top 10 stolen vehicle listed Nebraska includes the Chevy full-size 1500 pickup, Chevrolet Blazer, Oldsmobile Cutlass, Jeep Cherokee and the Ford F1 50 series pickup truck. Should you own any one of these vehicles you may find that your insurance premiums are above the state average. You can deter theft of your vehicle by installing antitheft devices, parking in a garage or a lighted security parking area, and of course choosing a vehicle that is not on the top 10 theft list in Nebraska.
Fremont, Nebraska, was founded in 1856, and as of the 2005 estimate, the population was just over 25,000 people. Freemont residents have an 18.5 minute commute on the average and a low vehicle theft rate. In 2005 only 34 vehicles were stolen in Fremont, Nebraska. If you're driving a vehicle with a high theft rate, you may be paying more than the average consumer in Fremont, Nebraska for your liability insurance. One of the ways to save on insurance in Fremont, Nebraska is to choose a vehicle that is not on the top 10 theft list, used antitheft devices, park in a secured area or in your own garage, and of course take a defensive driving course.
Lincoln, Nebraska is a capital of the state of Nebraska and is the second largest city with a population of almost a quarter million people. In Lincoln, Nebraska there were nine fatalities in 2004 involving 26 people and 16 vehicles with an average speed per accident of 45 mph. This proves that accidents can happen at any time and any speed, driving defensively is your best bet to avoid a serious accident. A defensive driving course is one way to help survive the roads of Lincoln, Nebraska. It's will also help lower your premiums on your mandatory Nebraska vehicle insurance.
Automotix Offers Nebraska Residents Free Insurance Quotes

One of the ways to save on insurance is to use the Automotix insurance system and discover just how low your insurance premiums can go. You'll simply enter a bit of personal information, information concerning the vehicle that you'd like to insure, and an approximate driver's record. You will then receive quotes within minutes from many different insurance agencies in Nebraska, giving you a choice of not only who to ensure web but you will be able to choose the lowest premium possible for your vehicle insurance in Nebraska.
Here are some of the Nebraska insurance carriers waiting for your business: