This complete guide is filled with valuable tips on how to buy used parts, where to look for quality salvage parts, how best to determine a fair price, ways to validate salvage yards, and how not to get ripped off by fraudulent wrecking yards. A must have for anybody buying parts.
Get your copy now!
Auto Parts, Lights, Wheels, Engines..
Car Insurance Nevada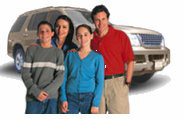 Nevada Insurance Facts
Nevada was the 36th state to enter the Union and has a population as of Census 2000 of almost 2 million people spread out over 100,000 Square miles. Nevada has over 1 1/2 million vehicles insured yearly, and is ranked 10th in cost of insurance with an average premium of $983 per year.
Minimum Requirements for Nevada State Insurance Laws

Nevada has state-mandated insurance requirements of liability of at least $15,000 for bodily injury with $30,000 per accident and $10,000 property or destruction of others' property in any one accident.
Noncompliance State of Nevada Insurance Laws
In Nevada, if you cancel your insurance, you must also cancel your registration and return your license plates back to the DMV. Nevada carries an insurance verification program, whereas each insurance agency is required to notify the department of motor vehicles of any new policies that have been written and all policies that have been terminated. This information will include your vehicle identification number, your name, and the dates of the change in your policy. The department of motor vehicles in Nevada has a special computer system that processes any changes every month and will follow up on any insurance policy that is flagged as a possible uninsured vehicle.
Nevada takes uninsured motorists very seriously and once you have been flagged as a non-insured motorist, it will cost you $250, and proof of current liability insurance to re-register your vehicle. If you can prove that your vehicle was dormant or had mechanical problems during the time that you have been accused of noncompliance, you can fill out a dormant vehicle affidavit and the reinstatement fee will then be $50 instead of the $250.
Las Vegas, Reno, Sparks, Nevada Insurance Facts

Las Vegas is the largest city in the state of Nevada with a population of over one half million. Las Vegas is a high theft area, with over 22,000 vehicles stolen in 2005. The most stolen vehicle list in Nevada includes the Honda Civic, Honda Accord, Toyota Camry, the Saturn SL, Nissan Sentra mama Dodge ram pickup, Toyota pickup and others. Should you own one of these vehicles there's a good chance you're paying a higher than average insurance premiums. You can lower that premium by installing antitheft devices, parking in a secured parking lot or covered garage, and simply not owning one of these vehicles on the top 10 most stolen list of Nevada.
Reno, Nevada is now the third largest city in Nevada with a population of over 210,000. Reno also has a high theft rate, with over 1500 car stolen in 2005. There were also 16 fatalities involving 47 people and 25 cars with an average speed of 35 mph. Serious accidents can happen no matter how fast you're going and making sure that you're adequately covered for long hospital stay is what insurance is all about.
Next to Reno, Nevada is Sparks, Nevada with a growth in population, an estimated 90,000 people as of 2006. The population in Sparks has an average of 18.1 minute commute daily. Those who commute know that safety on the road and defensive driving is a must. You can lower your insurance premiums by having a high crash test vehicle, taking a defensive driving course and ensuring that all of your safety devices such as seat belts, air bags and side airbags are working properly.
Automotix Offers Nevada Residents Free Auto Insurance Quotes

You can now shop for lower premiums on your Nevada insurance by using the Automotix insurance system. You'll simply fill in a few fields containing personal information, information concerning the vehicle you're going to insure, and information concerning your driver's record. Automotix will then give you insurance quotes from several different companies it once so you can compare premiums and choose the lowest premium for your particular driving situation.
Here are some of the Nevada insurance carriers waiting for your business: