This complete guide is filled with valuable tips on how to buy used parts, where to look for quality salvage parts, how best to determine a fair price, ways to validate salvage yards, and how not to get ripped off by fraudulent wrecking yards. A must have for anybody buying parts.
Get your copy now!
Auto Parts, Lights, Wheels, Engines..
Car Insurance New Hampshire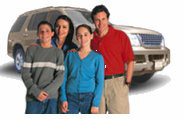 New Hampshire Insurance Facts
New Hampshire was one of the original 13 colonies, and now has a population of just over 1.2 million, and almost 900,000 insured passenger vehicles with an average insurance premium per year of $983.
New Hampshire Insurance Requirements

New Hampshire is one of the few states in the union that does not require liability insurance unless you've had a conviction or violations. If you have had a DUI, DWI, or other violations, New Hampshire will require that you carry SR-22 liability insurance.
Although New Hampshire does not require you to carry vehicle insurance you should carry at least a minimum of liability to protect yourself, and of course, if you have a loan or a lien against your vehicle there is a good chance that your financing company has required you to carry comprehensive and collision insurance along with liability. You can now get insurance quotes from the Automotix insurance quote system and find out just how inexpensive protecting yourself with liability passenger car insurance can be.
Manchester, Nashua, Concord, and Portsmouth Insurance Facts

In Manchester, New Hampshire the population as a 2005 was estimated at 110, 000, making it the largest city in New Hampshire. In 2005, 474 vehicles were stolen in New Hampshire including the Honda Civic, Honda Accord, Jeep Cherokee, Toyota Camry, Ford Explorer and the Ford F150 series pickup truck among others. You can help deter theft of your vehicle by installing antitheft devices, parking in a secured parking or your own personal garage, and owning a vehicle that is not on the top 10 list for New Hampshire.
Nashua, New Hampshire has been around since late 1600's, with the original name of Dunstable, New Hampshire. A population of just over 85,000 as of the census 2000, most commuters have an average time of 24.7 minutes on a daily basis. If you're one of those commuters you want to be sure that you're safe on the highways and byways of Nashua, New Hampshire. There were a total of six fatalities involving nine people and seven vehicles in 2004, so taking a defensive driving course is not only a way to stay safer on the road, but can also lower your insurance premiums in Nashua, New Hampshire.
Concord, New Hampshire is the capital, and also the county seat of Merrimack County, New Hampshire. A population of just over 42,000 estimated in 2006, keeps the highways of Concord busy with commuters averaging a daily time of 20.5 minutes. If you're one of those commuters on the roads of New Hampshire, you can help keep yourself safe, by not only taking a defensive drivers course, but also maintaining your vehicle and periodically checking that your safety features such as seat belts, air bags, side bags, and traction devices are working properly. You may also find taking the safe drivers course and maintaining your vehicle lowers your insurance premiums.
In Portsmouth, New Hampshire as of the 2000 census had a full time population of just over 20,000 with a swelling for the popular summer season, making the roads of Portsmouth New Hampshire during the tourist season a very busy thoroughfare. In 2000, 28 vehicles were stolen at a Portsmouth, New Hampshire, including the Chevy Silverado, Ford Taurus, Toyota Corolla, Acura Integra, the Ford F150 pickup, Ford Explorer, and the Toyota Camry among others. You can bet if you own one of these vehicles on the top 10 theft list of New Hampshire that your insurance premiums are higher than the state average. You can help lower your insurance premiums by parking in a secured lighted area or your personal garage, and installing antitheft devices.
Automotix Offers New Hampshire People Free Insurance Quotes

You can now save money on your automobile insurance in New Hampshire by comparison-shopping with the Automotix insurance system. You'll simply enter a bit of personal information, information concerning the vehicle you'd like to insure, and an approximate driver's record. Once you've filled in the fields, it will just take a few moments to get insurance quotes from several different companies within the state of New Hampshire. You can then comparison-shop, shop for higher values of insurance, and choose the lowest premium for the amount of insurance you'd like to carry for your passenger vehicle. So see how much money and time you can save by comparing and purchasing your automotive insurance with Automotix.
Here are some of the New Hampshire insurance carriers waiting for your business: