This complete guide is filled with valuable tips on how to buy used parts, where to look for quality salvage parts, how best to determine a fair price, ways to validate salvage yards, and how not to get ripped off by fraudulent wrecking yards. A must have for anybody buying parts.
Get your copy now!
Auto Parts, Lights, Wheels, Engines..
Car Insurance New Jersey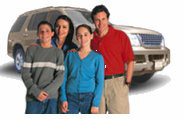 New Jersey Insurance Facts
New Jersey is home to almost 9 million people as of 2006 and with over 1100 people per square mile, you can bet that if you own an automobile in New Jersey, you better have insurance.
New Jersey Insurance Requirements

New Jersey state law mandates you have not only liability insurance, but also personal injury protection and uninsured motorist coverage. You must have bodily injury liability of $15,000 per person a with a total of $30,000 per accident and personal property damage of a minimum of $5,000. You also must have personal injury protection up to $15,000, and uninsured motorist liability coverage for bodily injury.
In New Jersey, when you purchase vehicle insurance, your insurance agency will give you an insurance identification card and you must keep that card in your vehicle at all times. You may need to show it when you get your vehicle inspected for registration, if you are involved in a collision, when you are stopped for a traffic violation, and if you are stopped by a police emphasis patrol or spotcheck.
New work, Jersey City, Paterson, and Camden, New Jersey Insurance Facts

In Newark, New Jersey, the largest city in the state with a population estimate of 281,000 occupants. Newark, New Jersey, and its close location to Manhattan and Staten Island have given its occupants, a 31.7 average commute. With 21 fatality accidents in 2004 involving 48 people and 30 vehicles with an average speed of 25 mph you can see where collisions and accidents can happen at any speed. It is vital that you have enough personal injury protection insurance to cover a long hospital stay. So if you're only caring the minimums, you might consider upping the values on your New Jersey vehicle insurance.
Jersey city, New Jersey is the second-largest city in the state of New Jersey with an estimated population as of the 2006 of over a quarter million. In 2005 over 1855 vehicles were stolen in Jersey City including the Honda Civic, Honda Accord, Toyota Camry, Jeep Cherokee, Dodge Caravan and the Nissan Maxima among others. Any one of these vehicles on the top 10 most stolen vehicle list in New Jersey can increase your insurance. Installing antitheft devices, parking in a secured parking area or in your own personal garage can help you save money on your premiums for your New Jersey vehicle insurance.
With 150,000 people as of 2006 in Paterson, New Jersey and an average commute time of 24.4 minutes, keeping your car in good condition and checking on your safety features on a regular basis can help keep you safe in Paterson, New Jersey traffic. Periodically check that your seatbelts, airbags, side bags and traction devices are working properly. Be sure to notify your insurance company of any of these features as safety features and defensive driving courses can lower your insurance premiums in Paterson, New Jersey.
In 2006 a population of almost 80,000 filled the city of Camden, New Jersey and with an average commute of 26.7 minutes, that makes for a lot of people on the road. There were six fatalities in 2004 involving 15 people and nine vehicles with an average speed of just 25 mph. As you can see accidents and fatality accidents can happen at any speed and making sure that all of your safety attributes in your vehicle are working properly, not to mention taking a defensive driving course can lower your insurance rate on your Camden New Jersey vehicle insurance. Be sure to comparison shop for your insurance in Camden New Jersey, you might as well get the lowest rates possible.
Automotix Offers New Jersey Residents Free Car Insurance Quotes

Automotix has now made it simple for you to comparison shop for your vehicle insurance in New Jersey. You'll simply enter your zip code, some personal information, information concerning the vehicle you're considering insuring, and an approximate driver's record. Within a few moments you'll have insurance quotes from several different companies, and you can choose the lowest premium for the amount of insurance for your New Jersey vehicle. Using one of today's tools for the information highway, the Internet can help you get insurance quotes from Automotix quickly and efficiently, and not only save you money, but also quite a bit of time.
Here are some of the New Jersey insurance carriers waiting for your business: