This complete guide is filled with valuable tips on how to buy used parts, where to look for quality salvage parts, how best to determine a fair price, ways to validate salvage yards, and how not to get ripped off by fraudulent wrecking yards. A must have for anybody buying parts.
Get your copy now!
Auto Parts, Lights, Wheels, Engines..
Car Insurance New Mexico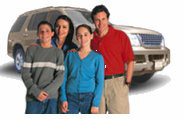 New Mexico Insurance Facts

The state of New Mexico is ranked 5th in size in the United States and 36th in population with almost 2 million inhabitants, this works out to a low population density of only 15 people per square mile. New Mexico writes approximately 1.3 million passenger car insurance policies per year at an average cost in 2005 of $727 per policy. New Mexico uses a computerized database to keep track of insurance and noninsured drivers; this tracking system is used to lower the number of uninsured drivers on the roads of New Mexico.
New Mexico Insurance Requirements

New Mexico as state mandated that all vehicles on the road carry a minimum liability insurance of at least $20,000 per person for bodily injury with a total of $50,000 per accident and $10,000 property damage insurance. If you choose not to pay premiums to an insurance company in New Mexico, you can get a $60,000 surety bond to cover your liability insurance for your passenger vehicle. Basically this means that you must deposit $60,000 at the state treasurer's office and then show the certificate of deposit, should you be asked for liability vehicle insurance in New Mexico. Should you be unable to get coverage in any other way in New Mexico, this will do, but it leaves you with only $60,000 to cover an accident that you have been found at fault in. $60,000 does not cover much if you have a multi-vehicle accident with multiple personal injuries, a single hospital stay can reach $60,000 within a few days, be sure that you're adequately covered for your vehicle insurance of New Mexico.
Albuquerque, Los Cruces, Santa Fe and Farmington New Mexico Insurance Facts

As of 2006 Albuquerque, New Mexico was ranked the 33rd largest city in the United States with a population of over 800, 000, this puts a lot of vehicles on the road. In 2004 there were 57 vehicle fatalities involving 146 people and 84 vehicles in Albuquerque, New Mexico. Vehicle accidents can happen at any time, be sure that your safety equipment including seatbelts, airbags, side air bags and traction devices are working properly. Also, be sure to notify your insurance company of the safety features of your personal vehicle, as they can lower your insurance premiums.
Las Cruces, New Mexico is the second-largest city in the state of New Mexico with an estimated population of over 86,000 people in 2006. Las Cruces, New Mexico had 462 vehicles stolen, and 2005, the Ford F150 Series pickup truck being the most stolen in the state of New Mexico. Antitheft devices, parking in your garage, or parking in a secured lighted parking area can help defray thieves and also lower your insurance premium.
Santa Fe, New Mexico is home to approximate 72,000 people and is the United States highest state capital at almost 7000 feet above sea level. Santa Fe had eight vehicle fatalities in 2004 involving 18 people, and 13 vehicles and an average speed of 25 mph. This proves that serious accidents can happen at any speed, be sure that you're adequately covered for serious vehicle accidents by upping the values on your regular liability insurance. New Mexico state mandated $20,000 per person in a vehicle accident doesn't go far if the accident is severe, you can now find out what it would cost to be adequately covered in New Mexico by using the Automotix insurance system.
Farmington, New Mexico has an estimated population as of 2006 of almost 45,000 people and home of the Connie Mack World Series of baseball for players ages 16 to 18 years. Farmington New Mexico had 183 vehicles stolen in 2005 including the Ford F150 series pickup, Chevrolet full-size 1500 pickup, Jeep Cherokee, Dodge ram pickup, Honda Accord, the Ford S250 series pickup, Ford Ranger, and the Pontiac Grand Am. To keep your insurance premiums low it's best to stay away from the 10 most stolen vehicle list in New Mexico. You can also install antitheft devices, park in a secured parking area or your own personal garage, all of these items will help keep your insurance premium below the New Mexico average of $727 per year.
Automotix Offers New Mexico Residents Free Auto Insurance Quotes

Automotix has made it easy for you to shop and comparison shop for vehicle insurance in New Mexico. You'll simply enter your zip code, a bit of personal information, an approximate driver's record, and information concerning the vehicle you'd like to insure. Within a few moments you'll have quotes from several different companies that you can compare and choose the lowest premium for your particular vehicle. Not only will you save time using the Automotix insurance system, but you can also save quite a bit of money, so fill in a few fields and get the best rates on insurance for your New Mexico vehicle from Automotix
Here are some of the New Mexico insurance carriers waiting for your business: