This complete guide is filled with valuable tips on how to buy used parts, where to look for quality salvage parts, how best to determine a fair price, ways to validate salvage yards, and how not to get ripped off by fraudulent wrecking yards. A must have for anybody buying parts.
Get your copy now!
Auto Parts, Lights, Wheels, Engines..
Car Insurance New York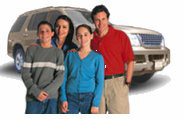 New York Insurance Facts
New York is the United States third most populous state, and was claimed by Henry Hudson in 1609. The total population of almost 19 million as of 2000 insured just over 9 million passenger vehicles in 2005 with an average yearly premium of $1122 making it the third most expensive state for insurance in the Union.
New York Insurance Requirements

The State of New York is very aware of vehicle insurance, before you can register your vehicle in New York State you not only need to show your New York insurance ID card, but also the DMV must be notified electronically from your insurance agency. You need both forms of proof of insurance before you can get your license plates. New York demands you have $25,000 per person injury and $50,000 total per injury accident as well as 50,000 accidental death, with 100,000 total per accident for death. You also must have uninsured motorist insurance of $25,000 per personal injury with a total of $50,000 for accident with $50,000 for death and $100,000 total per accident for death. You must also have property damage liability of $10,000 and an uninsured or basic no-fault accident insurance policy of $50,000. In order to drive in New York, you must have your policy written by a New York State insurance agency, your out-of-state insurance will not stand up to the state of New York insurance requirements.
Noncompliance in the State of New York for Vehicle Insurance
The State of New York Department of Motor Vehicles keeps track of your insurance activity via a database connected to all state licensed insurance agencies. The agencies must notify the DMV should a policy lapse, should you renew or change policies, or should you cancel your vehicle insurance. If any of the above have occurred, you must turn in your vehicle license plates. Should the DMV not receive your license plates with in a timely manner, they will send you a letter about the issue and should they suspend sure registration, you may be charged between $8 and $12 for each day the vehicle is uninsured as well as possibly lose your driver's license and your vehicle registration if you are caught driving. In certain cases, the DMV can also impound your vehicle, so be sure to keep your New York state mandated liability insurance current.
New York City, Buffalo, and Rochester Insurance Facts

New York City, New York is the largest city in the United States with a population as of 2006 of 8.2 million people and is home to not only the Statue of Liberty, but also the New York Stock Exchange. New York City had a whopping 18,000 vehicles stolen in 2005, which means staying away from the top 10 stolen vehicle list would be a great way to keep your insurance premiums a bit lower. The top 10 stolen vehicles in New York include a Toyota Camry, Honda Accord, Honda Civic, Dodge care of one, Nissan Maxima, Jeep Cherokee, Plymouth Voyager, Acura Integra, Ford Taurus and the Toyota Corolla. All of these vehicles are on the top 10 stolen list and insurance companies are aware of this. Should you choose to drive one of these vehicles, installing antitheft devices, parking in a secured parking area or in your own personal garage can help lower your insurance premiums.
Buffalo, New York is home to almost 300,000 people and has one of three radial street patterns in the United States. This means that from the hub of the city the streets radiate out like bicycle spokes. In 2005 the average daily commute was 21.2 minutes in the city of Buffalo, New York and had 17 vehicle fatalities involving 36 people in 20 vehicles with an average speed of 30 mph. This means that severe accidents can happen at any time, at any speed, and you want to make sure that you're adequately covered, should you be found at fault in a severe accident. Automotix makes it easy to increase the values of your insurance, so that you can be adequately covered for a long hospital stay.
Rochester, New York had a population of just over one million as of 2005 and had almost 3000 vehicles stolen that year. If you're driving a vehicle on the top 10 stolen vehicles of New York, there is good chance your insurance premium is higher than the state average. Not owning one of these vehicles, installing antitheft devices, and parking in a secured parking area can help lower your insurance premiums.
Automotix Offers New Yorkers Free Auto Insurance Quotes

Automotix as made it easy for you to compare insurance premiums via the Automotix insurance system. You'll simply enter in your ZIP code, the vehicle you'd like to insure, an approximate driver's record, and a bit of personal information. Within moments you'll receive quotes from several different insurance agencies so that you can compare prices and get the lowest premium for your vehicle insurance in New York, so try the Automotix insurance system and see how much money and time you can save on your New York vehicle insurance
Here are some of the New York insurance carriers waiting for your business: