This complete guide is filled with valuable tips on how to buy used parts, where to look for quality salvage parts, how best to determine a fair price, ways to validate salvage yards, and how not to get ripped off by fraudulent wrecking yards. A must have for anybody buying parts.
Get your copy now!
Auto Parts, Lights, Wheels, Engines..
Car Insurance North Carolina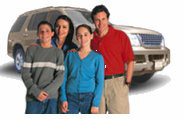 North Carolina Insurance Facts
North Carolina has the fastest growing population in the United States with an increase of 10% since April 2000, an estimated 8.8 million occupants as of 2006.
North Carolina Minimum Requirements for Vehicle Insurance

North Carolina is the sixth least expensive state for automobile insurance with an average of $602 per year, and over 6.6 million policies written per year for passenger vehicles. In order to register your vehicle in North Carolina, you must show proof of liability insurance of at least $30,000 per person with $60,000 total per accident and $25,000 coverage for property damage.
Noncompliance for North Carolina Insurance Laws
North Carolina uses an electronic system for insurance companies to notify the division of motor vehicles as to your insurance status. Should your coverage be canceled and you do not notify the DMV first, they will send you a notice and you must respond within 10 days. If you have allowed your North Carolina insurance to lapse, you will be required to pay a $50 fee and recertify your vehicle as to liability coverage. If you miss your 10 day due date, you can lose your license plate for 30 days and in order to reinstate you will have to pay a penalty fee, a processing fee and another plate fee.
Charlotte, Raleigh and Greensboro Insurance Facts

Charlotte, North Carolina is the 20th largest city in the nine states with an estimated population as of 2006 of over 660,000. Charlotte, North Carolina is named after the wife of King George III, Queen Charlotte of Mecklenburg and was occupied by General Cornwallis during the American Revolution. Charlotte, North Carolina had 4609 vehicle stolen in 2005 and you can reduce your premiums by installing antitheft devices, parking in a secured parking area or a personal garage and not owning one of the vehicles on North Carolina's 10 most stolen list.
Raleigh, North Carolina is the capital of the state and is the second most populous city in North Carolina with an estimated population as of 2007 of over 367,000 people. Raleigh North Carolina had 1008 vehicle stolen 2005 including the Honda Accord, Honda Civic, Jeep Cherokee, Dodge Caravan, Ford Explorer, Toyota Camry and others. Owning a vehicle on the top 10 storm list in North Carolina means that your premiums are probably higher than the state's average, purchasing a different vehicle, installing antitheft devices, and parking in a secured parking area can lower your premiums.
Greensboro, North Carolina is the third largest city in North Carolina with an estimated 2006 population of over 240,000. In 2004 there were 26 traffic fatalities involving 69 people and 44 vehicles with an average speed of 35 mph. Serious accidents can occur at any speed, and you're going to want to make sure your adequately covered for serious injury to you and your family. Increasing the minimum values on your liability insurance in Greensboro, North Carolina can help defray the cost of a serious accident, Automotix makes it easy to get insurance quote's for higher values on your state-mandated liability insurance for North Carolina.
Automotix Offers North Carolina People Free Car Insurance Quotes

Here at Automotix we've made getting multiple insurance quotes simple and effective. You'll simply enter your zip code, some personal information, information concerning the vehicle you'd like to insure and an approximate driver's record. Within moments you'll have several different quotes from different insurance agencies so that you can choose the lowest possible premium with the best coverage. So enter a bit of information and see how much time and money you'll save by comparison shopping for insurance for North Carolina vehicles, here at Automotix.
Here are some of the North Carolina insurance carriers waiting for your business: