This complete guide is filled with valuable tips on how to buy used parts, where to look for quality salvage parts, how best to determine a fair price, ways to validate salvage yards, and how not to get ripped off by fraudulent wrecking yards. A must have for anybody buying parts.
Get your copy now!
Auto Parts, Lights, Wheels, Engines..
Car Insurance North Dakota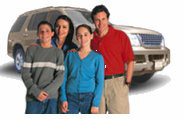 North Dakota Insurance Facts
North Dakota is the 48th most populous state in the union with just over 640,000 residents, and also has the lowest insurance premiums per policy in the United States. North Dakotans pay on an average expenditure $554 per passenger vehicle insurance policy with just over 560,000 policies written per year.
North Dakota Insurance Requirements

North Dakota demands that you carry at least liability insurance for all vehicles on the roads of North Dakota with a minimum $25,000 bodily injury and 50,000 per accident total, $25,000 destruction of property and also $25,000 per person, $50,000 per accident uninsured motorist coverage and 25,000 per person $50,000 per accident underinsured motors coverage. North Dakota is very serious about their liability insurance for their motorists and also demand a basic no-fault injury protection of $30,000. This means that you must have liability insurance for personal injury, personal property, uninsured motorist, underinsured motorist and no-fault insurance to drive your vehicle on the roads of North Dakota.
Noncompliance with North Dakota Insurance Laws
If you're caught without insurance on the roads of North Dakota, you will be fined $150 and have anywhere from 6 to 12 points attached to your driving record. If you're caught again within 18 months, you will be fined $300, and again have six to 12 points added to your driving record and then you will be required to provide proof of insurance for three years directly to the DMV. Should you fail to carry insurance, your driver's license will be suspended and you will have to purchase a duplicate driver's license with a special section notifying police officers that you must provide proof of insurance and have proven insurance filed with the state. So don't get caught in North Dakota without at least liability insurance for your passenger vehicle.
Fargo, Bismarck, And Grand Forks North Dakota Insurance Facts

Fargo, North Dakota is the largest city in the state of North Dakota with an estimated population of just over 90,000 in 2005. Fargo residents have an average commute of 14.7 minutes daily. You can lower your insurance premiums in Fargo North Dakota by periodically checking all of your safety features such as seat belts, air bags, side impact bags and traction devices. Be sure to notify your insurance agency of any safety features on your vehicle, as this can lower your premiums..
Bismarck, North Dakota is the capital of the state of North Dakota, and as of 2006 had an estimated population of just over 58,000. Bismarck had 127 vehicles stolen in 2005, including the Chevy 1500 pickup, Ford Explorer, Pontiac Grand Prix, Ford F150 series pickup truck, Ford Taurus and the Dodge Caravan among others. You can deter theft of your vehicle by installing antitheft devices, parking in a secured parking area or your own personal garage. These items along with not owning one of the vehicles on North Dakota's top 10 stolen vehicle lists can help lower your premiums on your liability insurance.
Grand Forks, North Dakota is the third largest city in North Dakota with an estimated population in 2006 of over 96,000 residents. Grand forks was founded in 1870 and is basically an agricultural city, although many other economic businesses are helping the economy. Grand Forks had two fatalities in 2004 involving two people and 2 vehicles with an average speed of 25 mph. This proves that serious accidents can happen at any speed and making sure that you're adequately covered for a serious hospital stay is what insurance is all about. Automotix makes it easy to get insurance quotes on higher values of North Dakota mandatory liability insurance. So make sure you're adequately covered should you be involved in a major accident in North Dakota.
Automotix Offers North Dakota Residents Free Auto Insurance Quotes

Automotix has made it easy and time-saving to get multiple insurance quotes from multiple North Dakota insurance agencies. You'll simply enter your ZIP code, a bit of personal information, information concerning the vehicle you'd like to insure, and an approximate driver's record. Within moments, Automotix will give you quotes from several different insurance agencies so that you can comparison-shop and get the lowest rates for your North Dakota passenger vehicle insurance.
Here are some of the North Dakota insurance carriers waiting for your business: