This complete guide is filled with valuable tips on how to buy used parts, where to look for quality salvage parts, how best to determine a fair price, ways to validate salvage yards, and how not to get ripped off by fraudulent wrecking yards. A must have for anybody buying parts.
Get your copy now!
Auto Parts, Lights, Wheels, Engines..
Car Insurance Ohio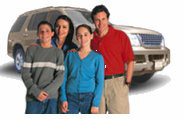 Ohio Insurance Facts
Ohio is home to over 11 million people as of the census 2000, and almost 8 million insurance policies were written for passenger cars in 2005 with an average expenditure of $669 per year.
Ohio Insurance Requirements

When you drive on the roads of Ohio, you must have proof of insurance or other financial responsibility proof, meaning you can purchase insurance through a state registered Ohio insurance agency or you can file a bond with the Bureau of motor vehicles of at least $30,000. Ohio minimum liability coverage from your registered Ohio state agency is at least $12,500 bodily injury per person or $25,000 bodily injury per accident with a $7,500 for property damage. This is not a lot of insurance if you are in a serious accident; it is highly recommended that your Ohio state minimum level requirements be raised to adequately protect your life and investment portfolio.
Noncompliance of Insurance State Laws for Ohio
If you are not able to prove proof of insurance or financial responsibility coverage during a traffic stop, any time you are given a citation, during vehicle inspection stops, during traffic court appearances or random checks by the Ohio Bureau Of Motor Vehicles via random mailings to 5% of the populace that drives every year, you may lose your license for 90 days, lose your license plates and registration, have to pay a reinstatement fee from $75-$500 depending on the number of offenses, be required to carry special insurance ( known as high risk insurance) for a period of three to five years, and possibly face having your vehicle impounded or sold, and having your Ohio drivers license suspended. So when driving on the roads of Ohio, be sure that your proof of insurance is in your motor vehicle at all times.
Columbus, Cleveland, and Cincinnati Insurance Facts

In Columbus, Ohio, the capital of Ohio and the largest city, the population was estimated in 2006 of 733,000 residents and in 2005, 8441 vehicles were stolen in the city proper and the surrounding areas. Ohio's 10 most stolen vehicle list includes the Oldsmobile Cutlass, Dodge Caravan, Buick Century, Chevrolet Cavalier, Plymouth Voyager, Ford Taurus and others. Should you own one of these vehicles you may find that your insurance premium is above the state average. You can help lower your insurance premium by installing antitheft devices, parking in a secured parking area, and not owning a vehicle on the Ohio 10 most stolen vehicle list.
Cleveland, Ohio is the county seat of Cuyahoga County and is in the most populous county in the state with a population in the city of almost one half million as of the census 2000. Cleveland, Ohio had almost 11,000 vehicles stolen in 2005, this is considered a high theft area and antitheft devices can help not only deter thieves but also help keep your insurance premiums low. Cleveland, Ohio also had 34 deaths involving 80 people and 52 vehicles with an average speed of 35 mph. Periodically checking your safety features in your vehicle becomes important with this kind of traffic on the roads of Ohio. Check your seatbelts, airbags, side impact bags and traction braking systems. Be sure to notify your insurance if you have any of the above items as at times they can help lower your insurance premiums.
Cincinnati, Ohio is the third largest city in the state and as of 2006 had a population of over 330,000 people. Cincinnati is well-known for its major league sports and has not only baseball, football, soccer, hockey and Arena football but is also home to the oldest tennis tournament in the United States, the Cincinnati Masters. Cincinnati also is another area of high theft for motor vehicles, with over 5700 vehicles stolen in 2005. It's important that not only do you park your vehicle in a secured parking area or personal garage, but it's also important that you install antitheft devices to help deter thieves.
Automotix Offers Ohio Residents Free Auto Insurance Quotes

Automotix has made it easy to find the lowest rates for your vehicle insurance in Cincinnati, Ohio. You'll simply enter your ZIP code, a bit of personal information, information concerning the vehicle you'd like to insure, and an approximate driver's record. Within a few moments Automotix will give you quotes from different state registered Ohio insurance carriers, so that you can choose the lowest premium possible for your situation. Please remember that state-mandated insurance for Ohio is extremely low when it comes to liability limits, it may only cost you a few dollars more to increase your Ohio liability insurance for your vehicle. Feel free to get estimates with different values so that you can find the insurance that will protect you adequately and at the same time be affordable, from Automotix.
Here are some of the Ohio insurance carriers waiting for your business: