This complete guide is filled with valuable tips on how to buy used parts, where to look for quality salvage parts, how best to determine a fair price, ways to validate salvage yards, and how not to get ripped off by fraudulent wrecking yards. A must have for anybody buying parts.
Get your copy now!
Auto Parts, Lights, Wheels, Engines..
Car Insurance Oklahoma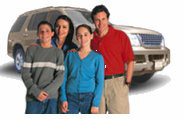 Oklahoma Insurance FAQs.
Oklahoma is home of over 3 1/2 million residents as of 2006 and was formed as a state in 1907 commonly referred to as the Sooner State. Oklahoma residents on average expenditure pay $678 a year for insurance and in 2005 wrote over 2 1/2 million passenger vehicle policies.
Oklahoma Insurance Requirements

Oklahoma has state-mandated liability insurance required of all vehicles driven on the roads in Oklahoma of at least $25,000 for injury or death, with $50,000 max for one accident and $25,000 property damage liability.
Noncompliance of Oklahoma Vehicle Insurance Laws
In 1950 Oklahoma developed The Oklahoma Automobile Insurance Plan for those drivers who cannot get or have trouble getting insurance, so there's no reason to be caught without insurance and the penalties in Oklahoma are stiff. If you are caught without the required proof of liability insurance, you can be fined up to $250, and wind up in jail for 30 days. In Oklahoma, not only a law enforcement officer, but also a public safety representative can check for your proof of liability insurance. In Oklahoma, the insurance agency is required to report any insurance policy that is canceled within 180 days of inception. This notification will go to the Department of safety, and they will then send you a notice requesting verification of your vehicle insurance. If you do not notify them within 30 days, you may lose your vehicle registration and your driver's license.
Oklahoma City, Tulsa, Norman and Midwest City Insurance Facts

Oklahoma City is the capital of Oklahoma and the county seat of Oklahoma County and is the 30th largest city in the United States. As of 2006 there were over 1.1 million people in the metropolis and most residents had an average commute time of 20.8 minutes. Spending time on the road with your commute necessitates driving defensively, you can take a safe driver course or a defensive driving course and actually get lower premiums on your insurance in Oklahoma City.
Tulsa, Oklahoma has an estimated population of just over 380,000 as of 2006 and in 2005 at 3730 vehicles stolen with in Tulsa and the surrounding areas. Should you own a Chevy 1500 pickup, Honda Accord, Ford F1 50 series, Dodge ram pickup, GMC 1500 pickup, Chevy Silverado, Oldsmobile Cutlass, Honda Civic, Ford Taurus or the Jeep Cherokee/grand Cherokee, your vehicle is on Ohio's most stolen vehicle list. Installing antitheft devices parking in your personal garage or a secured parking area can help deter thieves and also lower your premiums for your state-mandated liability insurance in Ohio.
Norman, Oklahoma has just over 102,000 full-time residents and is situated just 20 miles south of Oklahoma City. Norman, Oklahoma residents have approximate 21 minute average commute with six fatalities in 2004 involving 23 people in 10 vehicles with an average highway speed of 50 mph. Making sure that all of the safety features on your vehicle such as seat belts, airbags, side impact bags and traction devices are working properly, can help save you an accident in Norman, Oklahoma. These types of devices can also lower the premiums on your insurance, so be sure to notify your Oklahoma insurance agency at any safety features on your vehicle.
Midwest City, Oklahoma had a population as of the 2000 census of just over 55,000 people and is considered the seventh largest city in Oklahoma. Even in the small suburban areas such as Midwest City, Oklahoma cars thefts are on the rise, in 2005, 259 vehicles were stolen out of Midwest city and the surrounding areas. You can lower your insurance premiums in Midwest City, Oklahoma by installing antitheft devices, parking in a secured parking area or your personal garage and by not owning one of the vehicles on Oklahoma's top 10 stolen car list.
Automotix Offers Oklahoma People Free Car Insurance Quotes

Automotix has made it easy for you to shop in comparison shop for your Oklahoma insurance. You're simply going to enter a bit of personal information, information concerning the vehicle you'd like to ensure, any safety features you may have in said vehicle, an approximate driver's record, and your zip code. Once you've entered in the information you will have several quotes from different companies within a few moments, allowing you to comparison shop for the lowest rates for your Oklahoma state-mandated liability insurance.
Here are some of the Oklahoma insurance carriers waiting for your business: