This complete guide is filled with valuable tips on how to buy used parts, where to look for quality salvage parts, how best to determine a fair price, ways to validate salvage yards, and how not to get ripped off by fraudulent wrecking yards. A must have for anybody buying parts.
Get your copy now!
Auto Parts, Lights, Wheels, Engines..
Car Insurance Oregon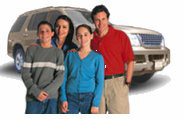 Oregon Insurance Facts
The state of Oregon is situated on the western coastline of the United States, and as of 2006 it is estimated to have a population of 3.7 million with over 2 1/2 million passenger car insurance policies written in 2005. On average, an Oregonian, paid $737 per year for automobile insurance.
Oregon Insurance Requirements

Oregon has state-mandated that every vehicle on the road must have liability insurance of at least $25,000 per person, with $50,000 per accident max and at least $10,000 for property damage. Oregon also mandates that you have personal injury protection of at least $15,000 per person and uninsured motorist protection of at least $25,000 per person and $50,000 maximum per collision.
Noncompliance with Oregon State Law
Oregon drivers must carry proof of insurance, and also prove that they have coverage every time they register their motor vehicle. Oregon Department of motor vehicles, randomly selects vehicle owners and requests that the provide company and policy number in order to verify that the resident does have at least liability insurance. If you're found without coverage in Oregon, you may be charged with a class A misdemeanor, which is punishable by not only fines but also suspension of your driving license and your vehicle may be towed and impounded. Your vehicle identification number will be used on your insurance policy; you should check to be sure that all numbers on the policy match your actual vehicle.
Portland, Eugene, Salem and Springfield, Oregon Insurance Facts

Portland, Oregon is the largest city in the state of Oregon where the population as of 2006 of just over half a million. Portland had 5936 vehicles stolen in 2005. If you own a vehicle on the top 10 stolen vehicles in Oregon list such as the Honda Accord, Honda Civic, Toyota Camry, Toyota pickup, Acura Integra and others, there is a good chance that your yearly premium is above Oregon's average. You can lower your premiums by installing antitheft devices, parking in a secured parking area or your personal garage and not owning one of the vehicles on the top 10 stolen list of Oregon.
Eugene Oregon is the third-largest city in Oregon with a population as of 2006 of over 148,000 people. Those commuters in Eugene Oregon have an average commute of 16.9 minutes, and in 2004 there were seven fatality crashes involving 19 people and nine vehicles with an average speed of 35 mph. Obviously, serious accidents can happen at any speed and you want to make sure that you're adequately covered by your insurance policy for a lengthy hospital stay. It only cost a few dollars more to increase the values on your personal injury protection and liability vehicle insurance in Oregon, Automotix allows you to increase the levels on your insurance and discover exactly how much being adequately insured will cost you.
Salem, Oregon is the capital of the state of Oregon, and as of 2006 had a population of approximately 150,000 with the metropolitan area surrounding Salem of almost a half a million. Salem Oregon had 1753 vehicle stolen in 2005, you can deter the theft of your personal vehicle by installing antitheft devices, parking in a secured parking area and not owning one of the vehicles on his Oregon's most stolen vehicle list..
Springfield, Oregon has an estimated population as of 2006 of over 57,000 residents with an average daily commute time of 19.8 minutes. Spending time on the road can be dangerous and costly, making sure that all drivers in your family have taken a defensive driving course can not only lower your insurance premiums in Springfield, Oregon. But also save lives.
Automotix Offers Oregon People Free Car Insurance Quotes

Automotix makes it simple and easy to comparison shop for your Oregon liability insurance. Simply enter your ZIP code, information about yourself, vehicle information, and an approximate driver's record. Within a few moments you'll get insurance quotes from Oregon State registered insurance agencies, giving you the opportunity to comparison shop and choose the lowest premium available for the amount of insurance you'd like to carry. It doesn't make sense to take the first available insurance policy with today's tools of the Internet and the ability to comparison shop with Automotix. Fill in a few fields and find out just how much money and time you'll save by shopping and comparison shopping for your Oregon insurance your Automotix
Here are some of the Oregon insurance carriers waiting for your business: