This complete guide is filled with valuable tips on how to buy used parts, where to look for quality salvage parts, how best to determine a fair price, ways to validate salvage yards, and how not to get ripped off by fraudulent wrecking yards. A must have for anybody buying parts.
Get your copy now!
Auto Parts, Lights, Wheels, Engines..
Car Insurance Rhode Island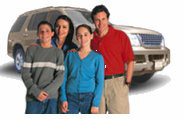 Rhode Island Insurance.
Rhode Island is the smallest state in the union and has the 43rd largest population with just over one million as of Census 2000. Rhode Island had over 600,000 passenger vehicles insured last year, and ranks seventh most expensive state with an annual average premium of $1059.
Rhode Island Minimum Insurance Requirements

Rhode Island has state-mandated that all vehicles on the roads carry a minimum of liability insurance. You must have at least $25,000 per person for bodily injury protection with a maximum of $50,000 per accident and property damage coverage of at least $25,000.
Road Island's Noncompliance Penalties
Rhode Island, also mandates that you must carry proof of insurance in your vehicle at all times. As proof of insurance you can use your actual policy, a receipt of payment with the policy number written on it, or your insurance agency will give you an insurance card. Should you be found without insurance while driving on the road of Rhode Island, you will be lose your license and be fined. Every year when you register your vehicle, you will be signing a statement that guarantees that you will carry insurance for the length of your registration.
Providence, Warwick, Cranston, and Newport Insurance FAQs

Providence is the largest city in the state of Rhode Island, with an estimated population as of 2006 of just over 175,000. Providence Rhode Island had over 2000 vehicles stolen in 2005 that included the Honda Accord, Toyota Camry, Honda Civic, Nissan Maxima and the Oldsmobile Cutlass among others. Should you own one of these cars, installing antitheft devices, parking in a secured parking area or your personal garage will help deter thieves and possibly lower your premiums on your Rhode Island state-mandated insurance.
Warwick, Rhode Island is the second-largest metropolis in the state and has an estimated population of over 87,000 as of 2005, in 2004 in Warwick Rhode Island, there were five fatality crashes involving nine people and six vehicles with an average speed of 35 mph. It doesn't take speed to cause a serious accident, so making sure that all of your safety features in your vehicle are working properly, can help you save your life. Periodically check your airbags, seat belts, side airbags and traction devices. Be sure that you notify your insurance company of these devices within your vehicle, as it can help lower your insurance premiums.
Cranston Rhode Island, home of just about 80,000 people as of the 2000 census was originally known as Pawtuxet. The average commute time for residents of Cranston Rhode Island is 20 minutes, this puts a lot of people on the road on a daily basis. One of the ways to lower your insurance premiums is to make sure that all your drivers and your family have taken a defensive driving course. This not only will make you a safer driver but can also save lives.
Newport Rhode Island was founded in 1639 and is now home to over 26,000 full time residents as of Census 2000. Even with this small population in 2004 they had one fatality involving two people and one vehicle with an average speed of 25 mph. As you can see, it doesn't take a lot of speed to cause a serious accident and making sure that your adequately covered with your liability insurance is important. It only takes a few dollars more to up the values on your liability insurance, so that you're covered should you need a long hospital stay.
Get Free Car Insurance Quotes from Road Island Insurance Agencies

You will now find it simple and effective to get many different quotes and compare prices for your insurance premiums, here at the Automotix insurance system. Not only can you change the values on your liability insurance in Road Island, but you can also get many different quotes from different state registered Rhode Island insurance agencies. You'll simply enter a few facts concerning your personal information, the car you'd like to insure, any safety features that are included in your vehicle, an approximate driver's record and your zip code. Within a few moments you'll get quotes from different insurance agencies, so that you can choose the lowest premium possible, that will adequately cover you for Road Island vehicle insurance.
Here are some of the Rhode Island insurance carriers waiting for your business: