This complete guide is filled with valuable tips on how to buy used parts, where to look for quality salvage parts, how best to determine a fair price, ways to validate salvage yards, and how not to get ripped off by fraudulent wrecking yards. A must have for anybody buying parts.
Get your copy now!
Auto Parts, Lights, Wheels, Engines..
Car Insurance South Dakota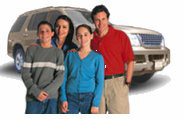 South Dakota Insurance
The State of South Dakota became a state in 1989 and is now home to over 750,000 people as of 2000. As of 2005 South Dakota wrote almost 650 passenger vehicle insurance policies with an average rate of $565 per year making it the third least expensive state in the union.
South Dakota Insurance Requirements.

South Dakota has mandated that you must have financial responsibility in order to drive the vehicle you own on the roads. This financial responsibility can be a liability insurance policy written from a state registered agency, a certificate of deposit of at least $50,000 deposited with the state treasurer, a Surety Company bond of at least $50,000, or if you own more than 26 vehicles you can have a Certificate of Self-Insurance.
If you are purchasing a liability policy from a South Dakota insurance agency, you must have at least 25,000 bodily injury with $50,000 per accident and $25,000 property damage liability. The state of South Dakota also demands that you carry uninsured And underinsured coverage of the same limits.
Noncompliance of Insurance Laws in South Dakota.
In South Dakota, you are required to show proof of your financial responsibility or liability insurance any time that you're asked for it. This can include an insurance card issued from your South Dakota insurance agency, your certificate of deposit, or your certificate of self-insurance. Should you be caught driving without financial responsibility your license can be suspended for anywhere from 30 days to 365 days, you also face 30 days in jail and up to a $100 fine. Once you have been caught in South Dakota, you will need to carry high risk insurance and have an SR 22 form filed in order to get your license back after you have found to be in noncompliance with South Dakota insurance laws, you also will have to pay reinstatement fee of $50 plus application fees, and if your licenses expired in the meantime, you will have to pass the drivers test all over again.
Sioux Falls, Rapid City, Aberdeen, Yankton insurance FAQs.

Sioux Falls, South Dakota, as of 2000 had a estimated population of 148,000. In 2005 there were 329 auto thefts, including the Chevrolet full-size 1500 pickup, Chevy Cavalier, Ford F150 series pickup, Ford Taurus, Pontiac Grand Am, Buick LeSabre and others. Should you own a vehicle on the top 10 theft list of South Dakota your insurance premiums are probably higher than the state average. You can lower your premiums on insurance by not owning one of the vehicles on the top 10 theft list in South Dakota.
Rapid City, South Dakota is home to almost 70,000 inhabitants as of 2007 with an average commute time of 15.8 minutes. In 2004 there are five fatality car crashes involving 12 people and seven vehicles with an average speed of 35 mph. As you can see, it doesn't take high-speed to cause a serious accident. You need to make sure that you're adequately covered, the state-mandated Liability limits do not cover a hospital stay in a serious accident.
Aberdeen, South Dakota is home to almost 25,000 residents as of 2007. Aberdeen had 29 vehicles stolen 2005, including the Honda Accord, Chevrolet Blazer, Oldsmobile Cutlass, Ford Explorer and the Buick LeSabre among others. These vehicles are on the top 10 theft list for South Dakota. You can install antitheft devices and park in a secured parking area, but there's a good chance should you own one of these vehicles your insurance premiums will still be above the South Dakota average.
In the small town of Yankton South Dakota, home to just over 13,000 residents as of the census 2000, they had eight vehicle stolen in 2005. There's a good chance one of these vehicles was on the top 10 stolen list for South Dakota. You can lower your insurance premiums by not owning one of the vehicles on the top 10 stolen list, installing antitheft devices, parking in a secured parking or your own personal locked garage.
Automotix Offers South Dakota People Free Car Insurance Quotes

You can now shop and comparison shop for the lowest premium for your personal situation with the Automotix insurance system. You'll simply enter in bit of personal information, your zip code, information concerning the vehicle you'd like to insure, and an approximate driver's record. Within a few moments you'll get quotes from different South Dakota insurance agencies so that you can choose the lowest premium with adequate coverage for you and your family. It doesn't take long, so see how much money and time you can save by shopping smartly with the Automotix insurance system.
Here are some of the South Dakota insurance carriers waiting for your business: