This complete guide is filled with valuable tips on how to buy used parts, where to look for quality salvage parts, how best to determine a fair price, ways to validate salvage yards, and how not to get ripped off by fraudulent wrecking yards. A must have for anybody buying parts.
Get your copy now!
Auto Parts, Lights, Wheels, Engines..
Car Insurance Tennessee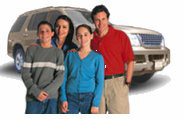 Tennessee Insurance Facts
Tennessee is home to over 5.5 million residents as of Census 2000 and had over 4 million passenger vehicle insurance policies written in 2005. The average expenditure per policy as of 2005 in Tennessee was $659 per year.
Tennessee Insurance Requirements.

You can register your car and get a drivers license in Tennessee, without showing proof of any kind of liability insurance or financial responsibility, but should you be in accident or get pulled over for a citation you will need to show proof of liability insurance or financial responsibility. Tennessee requires you have at least $25,000 per person with a total of $50,000 per accident and property damage liability coverage of a minimum of $10,000.
Noncompliance of Tennessee State Insurance Laws.
Should you be caught without the proper insurance evidence or financial responsibility, it will be a class C misdemeanor and you will lose your license and be given a $100 fine. Should you be unable to provide financial responsibility or proof of insurance after you have been to court, you will be unable to register your vehicle until you do provide proof of liability insurance or financial responsibility.
Memphis, Nashville, Knoxville and Chattanooga Insurance Facts

Memphis is the largest city in the state, and as of 2006 and 1.2 million people in residence and in 2005 at 7919 vehicles stolen. Some of vehicles on the top 10 stolen list include the Chevrolet 1500 pickup, Oldsmobile Cutlass, Honda Accord, Toyota Camry, Ford F150 series and the Buick Century. Should you own one of these vehicles it's a good chance that your insurance premiums are above the average. You can lower your premiums by installing antitheft devices and parking in a secured parking area or your own personal locked garage.
Nashville has over 600,000 residents as of 2005, and well over 4000 vehicles stolen that same year. Some of the vehicles on the top 10 theft list for Tennessee is a Ford Explorer, Ford Taurus, Jeep Cherokee and grand Cherokee, Chevrolet, Capri, Buick Century in the Ford F150 series. In 2004 there were 81 fatality vehicle collisions involving 266 people and 139 vehicles with an average speed of 40 mph. A serious accident can happen at any time and any place, at any speed, so be sure you have enough insurance to cover a long hospital stay, should you get into a collision in Nashville, Tennessee.
Knoxville is the third largest city in the state of Tennessee and has a population of over 170,000 as of the 2000 census. People in Knoxville Tennessee have an average commute of 20.3 minutes, which puts a lot of people on the road at the same time. If you take a safe driver's course you can actually lower your premiums on your Tennessee insurance, and possibly save lives.
Chattanooga Tennessee has an average commute of 19.8 minutes, and a 2004 there are 28 fatal vehicle collisions involving 90 people and 45 vehicles with an average speed of 40 mph. A serious vehicle accident can happen at any speed, and most insurance limits that are state-mandated is not enough to cover you and your family for lengthy hospital stays. It usually only cost a few dollars more to increase the values of insurance on your Tennessee insurance policy.
Automotix Offers Tennessee Residents Free Car Insurance Quotes.

Automotix has developed a simple system so that you can find out how much it would cost to be adequately covered. You can also comparison-shop for insurance rates from different Tennessee State insurance agencies. You simply fill in a few fields including your r personal information, information concerning your driver's record and the vehicle that you'd like to insure, also your zip code. Within a few moments you'll get insurance quotes from several different Tennessee insurance agencies and you can choose the lowest premium with the best coverage for you and your family.
Here are some of the Tennessee insurance carriers waiting for your business: