This complete guide is filled with valuable tips on how to buy used parts, where to look for quality salvage parts, how best to determine a fair price, ways to validate salvage yards, and how not to get ripped off by fraudulent wrecking yards. A must have for anybody buying parts.
Get your copy now!
Auto Parts, Lights, Wheels, Engines..
Car Insurance Texas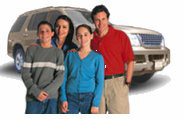 Texas Insurance Facts
Texas is the second-largest state in the union and has a population of almost 24 million people with the average consumer paying $845 per year for automotive passenger car insurance.
Texas Minimum Insurance Requirements.

When you register your car in Texas, you will need to show proof of insurance with minimum liability coverage of $20,000 for bodily injury with a maximum of $40,000 per accident and $15,000 for property damage. You will be unable to register your vehicle in Texas if you do not show proof of insurance, which may include a Texas insurance card issued from your Texas insurance agency, a receipt of payment for your policy with the policy number and company name, or your actual Texas insurance policy..
Noncompliance for Texas State-Mandated Vehicle Insurance
Texas is very serious about having all vehicles insured, whether driven on the road or not. If you own a vehicle in Texas, it must be insured, and the penalty for a first-time offense can be between $175 and $350, and if you're actually caught a third time it may result in your driver's license suspension, and even your vehicle can be impounded.
For repeat offenders in Texas, you may be given a citation entitled "failure to maintain financial responsibility". This means that for the next three years you may have to pay a surcharge, similar to a fine, whether you carry insurance or not. In order to drive on the roads of Texas with an out of state insurance policy, it must meet the minimum Insurance requirements for Texas or your insurance will be considered invalid. Texas also demands that you insured a vehicle, whether working or not, in order to transfer the title.
Houston, Dallas, San Antonio and Fort Worth Insurance Facts

Houston, Texas is the fourth largest city in the United States of American as of 2006 and had an estimated population of 2.1 4 million. In 2005, a whopping 30,000 vehicles were stolen in the city of Houston and the surrounding areas, including the Chevy 3500 pickup, Chevy Trailblazer, Ford Thunderbird, Isuzu rodeo, Toyota Tacoma, Chevy Astro van in the Ford Econoline E150 Van. These are just a few of the vehicles on Texas' most stolen vehicle list. Should you own one of these vehicles you should definitely install antitheft devices and park in a secured parking area. There's a good chance that your minimum state required insurance premium is well above the state average cost.
Dallas, Texas is the ninth largest city in the United States and as of 2006 had an estimated population of 1.2 million. In 2004, 148 people were killed in fatal car crashes involving 403 people, 227 vehicles, and the average speed was 60 mph. Serious accidents and injuries can cost a lot of money for lengthy hospital stays. You want to be sure that your adequately covered by your personal injury protection insurance for a lengthy hospital stay. It usually only cost a few dollars more to insure your self adequately.
San Antonio, Texas is home to a population of 1.2 million people as of 2006 and had 7424 vehicles stolen in 2005. The average commute time for San Antonio is 23.8 minutes, which puts a lot of people on the road at one time. You can lower your insurance premium in San Antonio, Texas by making sure that all drivers and your family have taken a safe drivers course. Not only can it slower your insurance premiums, but can quite possibly save lives.
Fort Worth, Texas is the 18th largest city in the United States of America and as of 2006 had an estimated population of just over 650,000. Fort Worth had 62 fatality car crashes in 2004 involving 149 people and 90 vehicles with an average speed of 40 mph. As you can see, it doesn't take speed to kill or cause serious damage to human beings. Be sure that you're adequately covered and up the values of your personal injury protection to cover you and your family should all of you need a lengthy hospital stay.
Automotix Offers Texans Free Car Insurance Quotes.

Automotix makes it simple to get comparison-shopping quotes on values and insurance premiums from different state registered agencies. You will get quotes from Texas, insurance agencies by filling in a few simple fields. You'll need your ZIP code, a bit of personal information, information concerning the vehicle you would like to insure, and an approximate driver's record. Within a few moments, Automotix will give you several different quotes from different Texas insurance agencies so you can compare quotes and get the lowest premium possible for your Texas vehicles.
Here are some of the Texas insurance carriers waiting for your business: