This complete guide is filled with valuable tips on how to buy used parts, where to look for quality salvage parts, how best to determine a fair price, ways to validate salvage yards, and how not to get ripped off by fraudulent wrecking yards. A must have for anybody buying parts.
Get your copy now!
Auto Parts, Lights, Wheels, Engines..
Car Insurance Utah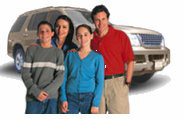 Utah Insurance FAQs.
As of Census 2000 Utah had a population of over 2.2 million people, with over 1.6 million passenger vehicles insured in 2005 with an average cost of $706 per year.
Utah Insurance Minimum Requirements.

In Utah, if you are caught with out valid vehicle insurance your first offense will cost you a $400 fine and your license may be suspended, as well as your vehicle registration. For a second offense or more it will be $1000 if within a three-year time period and is considered a clas B felony. In order to reinstate your vehicle registration you will need to pay a $100 reinstatement fee, present your vehicle title or registration card, have picture identification and proof of insurance coverage. Utah has a cross-referencing system between the Department of motor vehicle's registration system and state insurance agencies. If a vehicles is found to be uninsured, the registered owner will receive a letter and need to prove insurance for that particular vehicle.
Salt Lake City, West Valley City, Provo and Ogden Insurance Facts

Salt Lake City is the capital of Utah and the largest city in the state with a population as of 2006, of 178,000. Salt Lake City had 24 fatality vehicle collisions in 2004 involving 75 people and 40 vehicles with an average speed of 45 mph. It doesn't take much to cause a serious accident with a vehicle, and you want to make sure that you're adequately covered. The state mandated limits is not much, so you might want to find out how much it will cost to up the value on your personal injury protection.
West Valley City is home to 118,000 residents as of 2006, and in 2005 add 678 vehicles stolen in the city and surrounding areas. Some of the vehicles on the most stolen vehicles list in Utah are the Honda Civic, Honda Accord, Jeep Cherokee, Toyota Camry, Saturn SL and the Acura Integra. Should you own one of these vehicles you have probably found that your insurance rate is above the state's average. You can lower your insurance premiums by installing antitheft devices and parking in a secured parking area.
Provo Utah is home of Brigham Young University and has a population of 115,000 as of 2006, making it the third largest city in Utah. Provo, Utah had 208 vehicles stolen in 2005, some of those vehicles were probably the Ford escort, Ford Taurus, Ford Explorer, Nissan Sentra and the Acura Integra. All of these vehicles are on the 10 most stolen vehicle list in Utah, and usually require a higher insurance premium.
Ogden Utah had a 2006 population estimate of 78,000 people and in 2004 had seven fatality accidents involving 21 people and 10 vehicles with an average speed of 40 mph. You don't have to be going fast to be seriously injured in a vehicle accident. If you are running with just the state mandated minimum requirements for liability you are probably not adequately covered should you be in need of a serious hospital stay. It usually only cost a few dollars more to be adequately covered for your vehicle insurance in Utah.
Get Free Insurance Car Quotes from Utah Insurance Agencies

Automotix has developed an insurance quotes system that is efficient and easy to use. You'll simply enter your ZIP code, some personal information, information concerning the vehicle you'd like to ensure, and an approximate driver's record. Within a few moments, you will receive several quotes from different state registered Utah insurance agencies so that you can compare values and find the lowest premium for your insurance needs. So take a few moments, and find out how much money you'll save using the Automotix insurance quote system.
Here are some of the Utah insurance carriers waiting for your business: