This complete guide is filled with valuable tips on how to buy used parts, where to look for quality salvage parts, how best to determine a fair price, ways to validate salvage yards, and how not to get ripped off by fraudulent wrecking yards. A must have for anybody buying parts.
Get your copy now!
Auto Parts, Lights, Wheels, Engines..
Car Insurance Vermont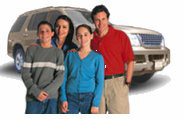 Vermont Insurance Facts
Vermont is the second least populous state in the union with a total population as of 2000, of over 600,000 residents. Vermont wrote over 466,000 passenger car insurance policies in 2005 with an average cost of $699 per policy.
Vermont Insurance Requirements

Vermont requires you have $25,000 for injury or death with a $50,000 per accident minimum and $10,000 property damage. Or you can file a $115,000 bond with the commissioner of motor vehicles proving personal financial responsibility.
Noncompliance of Vermont Insurance.
If you cannot prove financial responsibility or proof of liability insurance when caught driving on the road of Vermont, you can be fined not more than $100 and will receive points against your driver's record. You also may be required to file a proof of financial responsibility insurance for the Vermont DMV. In Vermont this financial responsibility insurance is on the person not on a specific vehicle. You may be required to carry this special expensive insurance for a minimum of three years and can be issued a license suspension, should this financial responsibility insurance lapse.
Burlington, Rutland, Bennington, and Brattleboro Insurance Facts

Burlington, Vermont is the largest city in the state of Vermont, but is the smallest US city that is considered the largest in its state with a population of almost 40,000 as of the census 2000. Most commuters in Burlington Vermont have an average travel time of 16.8 minutes. You can actually lower your premiums on your Vermont insurance by taking a safe driver's course, and of course, this can actually save lives, when you are commuting to and from work on a daily basis..
Rutland, Vermont is located 30 miles east of New York State and is the second-largest city in Vermont with a population of just over 17,000 as of 2000 census. A rural area that still had 40 vehicles stolen in 2005. Some of those vehicles on the top 10 stolen vehicle list in Vermont is the Honda Accord, Jeep Cherokee and Grand Cherokee, Subaru Legacy, Ford escort, Ford Taurus, Dodge Dakota and others. If you drive one of these vehicles you may have noticed that your insurance premium in Vermont is higher than the state average. You can lower your insurance premiums by installing antitheft devices and parking in a secured parking area.
Bennington Vermont had a population of almost 16,000 at the 2000 census, and in 2004 had two fatality accidents involving four people in three vehicles with an average speed of 30 mph. Serious accidents can happen at any rate of speed, so you want to make sure that you're adequately covered for a lengthy hospital stay. Most state-mandated liability coverage does not cover a lengthy hospital stay. It only cost a few dollars more to up the values and be adequately covered with your vehicle insurance.
Brattleboro, Vermont was chartered in 1753 and is now home of over 12,000 residents as of 2000 census, and in 2004 actually had 17 vehicles stolen. This is over one vehicle per 1000 residents and is considered a high theft rate. You can deter thieves by parking in a secured parking area, locking your vehicle in your personal garage and installing antitheft devices. You'll also want to stay away from the top 10 stolen vehicles in Vermont, which include the Chevy Cavalier, Ford Ranger, Pontiac Grand Am, Honda Civic, Dodge Dakota and the Ford Taurus among others.
Get Free Car Insurance Quotes from Vermont Insurance Agencies

Automotix insurance quote system can now get you quotes from several different agencies so that you can comparison-shop and get the best premium for your vehicle. You're simply going to need your zip code, some vehicle information, an approximate driver's record and some personal information. Within a few moments. You'll receive several different quotes from several different Vermont insurance agencies so that you can choose the best premium for you and your family.
Here are some of the Vermont insurance carriers waiting for your business: