This complete guide is filled with valuable tips on how to buy used parts, where to look for quality salvage parts, how best to determine a fair price, ways to validate salvage yards, and how not to get ripped off by fraudulent wrecking yards. A must have for anybody buying parts.
Get your copy now!
Auto Parts, Lights, Wheels, Engines..
Car Insurance Virginia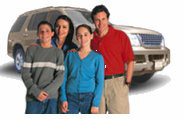 Virginia Insurance Facts
Virginia has a total population as of Census 2000 of over 7 million people, with 466,557 insurance policies written on passenger vehicles in 2005 with an average cost of $698 a year.
Virginia Vehicle Insurance Requirements

Virginia requires that in order to register a vehicle, you must show proof of liability insurance with a minimum of $25,000 per person for bodily injury and $50,000 max per accident and $20,000 for property damage. Virginia requires you purchase these policies from a Virginia state registered insurance agency. Virginia is one of the few states that will waive your liability insurance with an uninsured motor vehicle fee of $500; this fee is renewed every year when you register your vehicle. This uninsured motor vehicle fee does not mean that you are covered for any damage you may cause if you're found at fault in an accident.
Noncompliance with Virginia State Insurance Laws
If you fail to prove vehicle insurance in the state of Virginia, you will lose your driving privileges and be unable to register your vehicle. In order to reinstate these privileges, you will have to pay $500, while a financial responsibility insurance certificate known as an SR22 for a minimum of three years, and pay all fees for reinstatement of your license and vehicle registration. The state of Virginia has a cross referencing system for monitoring compliance with vehicle liability insurance. Anytime your policy's canceled, lapses, or anytime you get a new policy or add vehicles to your existing policy, the state registered insurance agencies must notify the Department of Motor Vehicles. Also, a vehicle owner or representative can voluntarily file an accident report with the DMV, and inquire as to whether insurance is attached to the vehicle registration. Law enforcement agencies also have a law-enforcement notification that is initiated when officers require owners and drivers to show proof of insurance, and also you can have your license suspended if you're in an accident and a police report has been filed and you are notified to prove to the Department of enforcement of your liability insurance. But cannot prove insurance.
Virginia Beach, Norfolk, Richmond and Hampton Insurance Facts

Virginia Beach is home to over 435,000 residents as of 2006, and in 2005 and 4513 vehicles stolen within the city of Virginia Beach and adjacent areas. Some of these vehicles might have been the Honda Accord, Honda Civic, Jeep Cherokee and Grand Cherokee, Dodge Caravan, Toyota Camry and the Ford Taurus. All of these vehicles are on the top 10 stolen vehicle list for Virginia. You may have noticed that if you own one of these vehicles your insurance premiums are higher than the state average.
Norfolk Virginia had a population as of the 2000 census of just over 230,000 people, and in 2005 had 1139 vehicles stolen. Some of these vehicles may have been the Toyota Corolla, the Ford F1 50 series, Plymouth Voyager, Ford Explorer, Ford Taurus and possibly the Toyota Camry. All of these vehicles are on the top 10 most stolen vehicle list in Virginia. You can lower your premiums by not owning one of these vehicles, and installing antitheft devices, and parking in a secured parking area.
Richmond, Virginia had a population of over 192,000 as of 2006 and in 2005 and 3867 vehicles stolen. In 2004 there were nine fatality car collisions including 14 people and 11 vehicles with an average speed of 35 mph. You can stay safer on the road by taking a safe driver's course, which could also lower your insurance premiums.
Hampton, Virginia, had an estimated population of 145,000 in 2005, with 560 vehicles stolen as of 2005 and a 21.8 minute commute time. There were 10 fatality accidents in 2004 involving 25 people and 14 vehicles with an average speed of 55 mph. Serious accidents can happen no matter what speed you are traveling and carrying enough insurance to cover you, should you need a lengthy hospital stay requires upgrading the minimum Virginia State required insurance. It usually costs a few dollars more to up the values in your personal injury protection so that you're adequately covered should you be in a serious accident.
Get Free Car Insurance Quotes from Virginia Insurance Agencies

Automotix now offers a system of insurance quotes that will give you quotes from different Virginia state registered agencies. You'll simply enter your ZIP code, a bit of personal information, information concerning the vehicle you'd like to insure and an approximate driver's record. Within a few moments, you'll get insurance quotes from several different companies so that you can comparison shop and get the best premium for you and your family. Be sure that you're adequately covered, and find out through the Automotix insurance system how much it would cost to cover you with higher values for your personal injury protection. Serious accidents can occur at any time and at any speed so it's important that you're adequately covered should you need a lengthy hospital stay.
Here are some of the Virginia insurance carriers waiting for your business: