This complete guide is filled with valuable tips on how to buy used parts, where to look for quality salvage parts, how best to determine a fair price, ways to validate salvage yards, and how not to get ripped off by fraudulent wrecking yards. A must have for anybody buying parts.
Get your copy now!
Auto Parts, Lights, Wheels, Engines..
Car Insurance Washington State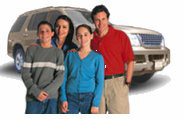 Washington State Insurance FAQs.
Washington became a state in 1889 and as a 2006 the estimated state population was 6.3 million, with over 4.2 million insurance policies written in 2005 at an average cost of $849 per year.
Minimum Washington State Insurance Requirements

Washington State requires you carry liability insurance of at least $25,000 for bodily injury with $50,000 total per accident and $10,000 for property damage. Exemptions can include antique or collector vehicles more than 30 years old, government and other public vehicles, motorcycles and mopeds, and vehicles registered under the Washington utilities and transportation commission.
Noncompliance with Washington State Liability Insurance.
If you are found without proof of insurance while operating a motor vehicle in Washington State, you'll have an opportunity to show proof of insurance at your violation court date. If you're found without valid insurance at the time you were/are driving a vehicle on Washington state roads, you will be fined at least $450. If you can show that you have recently purchased insurance for your Washington State vehicle at the time of your traffic violation court hearing, it is not uncommon for the fine to be reduced.
Seattle, Spokane, Bellevue, and Bellingham Insurance Facts

Seattle, Washington was estimated with a population in 2006 of over 580,000 people, and in 2005 had 9253 vehicles stolen. Some of those vehicles may have been the Honda Accord, Honda Civic, Toyota Camry, Acura Integra, Toyota pickup and the Nissan Sentra. These vehicles are on the 10 most stolen vehicle list for Washington and usually require higher premiums for liability or comprehensive insurance.
Spokane is the second-largest city in Washington state with a population of over 202,000 people, with half a million residing in Spokane County alone. Average commute time in Spokane is 19.5 minutes and in 2004 there were nine fatality accidents involving 22 people and 15 vehicles with an average speed of 35 mph. Serious accidents can happen at any speed and you'll want to upgrade your liability insurance to higher personal injury protection in order to make sure that you will be covered adequately for a long hospital stay.
Bellevue, Washington has an average commute of 21.6 minutes and in 2005 add 606 vehicles stolen, including the Jeep Cherokee and Grand Cherokee, Honda Prelude, Dodge Caravan, Saturn SL and the Nissan Sentra among others. All of these vehicles are on the top 10 stolen vehicle list in Washington State, and usually require higher insurance premiums. You can lower your insurance premium by an installing antitheft devices and parking your vehicle in a secured parking area.
Bellingham Washington is the 10th largest city in Washington State, and has an estimated population as of 2003 of just over 71,000 inhabitants. The average commute for people in Bellingham Washington is 17.8 minutes in 2004. They had four fatality accidents involving nine people and six vehicles with an average speed of 35 mph. You do not have to be going fast to have a serious accident, and being adequately covered is what insurance is all about. It usually only cost a few dollars more to upgrade your insurance to cover you for a lengthy hospital stay.
Get Free Car Insurance Quotes from Washington Insurance Agencies

Automotix insurance systems offer you free insurance quotes from several different agencies at once. It is quick and efficient, and simple, you'll need your zip code, a bit of personal information, information concerning the vehicle you'd like to insure, and an approximate driver's record. You will then receive several quotes from different Washington insurance agencies, and you can choose and comparison-shop the best premium for you and your family. See how much money you can save by getting different quotes from different Washington State insurance agencies.
Here are some of the Washington State insurance carriers waiting for your business: