This complete guide is filled with valuable tips on how to buy used parts, where to look for quality salvage parts, how best to determine a fair price, ways to validate salvage yards, and how not to get ripped off by fraudulent wrecking yards. A must have for anybody buying parts.
Get your copy now!
Auto Parts, Lights, Wheels, Engines..
Car Insurance West Virginia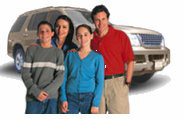 West Virginia Insurance Facts
West Virginia was admitted to the Union in 1863 after separating from the state of Virginia due to the American Civil War. As the Census 2000, there were 1.8 million inhabitants in West Virginia, with over 1.2 million passenger car insurance policies written in 2005 with an average cost of $857 per year.
West Virginia Minimum Insurance Requirements

Minimum liability insurance coverage for West Virginia vehicles is $20,000 for injury or death with a maximum of $40,000 per accident and $10,000 for property damage. You must carry proof of insurance in your vehicle at all times, and when you register your vehicle with the state of West Virginia, you must sign a statement, stating that your vehicle is insured and will remain insured.
Noncompliance with West Virginia Insurance Laws
In West Virginia, should you be caught during a collision or accident without liability insurance, you will not be allowed to register a vehicle in the state of West Virginia. Until you pay the judgment given to the other driver in full. If your vehicle becomes unusable or is out of use and doesn't require insurance, you can submit form WB -4C to the Department of Motor Vehicles identifying the reason for non-insurance. If you fail to show proof of insurance, your vehicle registration will be suspended, and it will cost you a $100 reinstatement fee plus an extra $50 at the Department of Motor Vehicles and the state police will issue a secure order on your license plate. You will also lose your license for up to 30 days as a first offense and a second offense your license will be suspended for 90 days and you will need to pay a $50 reinstatement fee. In order to reinstate your registration of your vehicle and your driver's license, you must prove that you have insurance and paid your reinstatement fees to the DMV and then wait for a reinstatement date which will only occur after your suspension ends. It's best to carry liability insurance in the state of West Virginia.
Charleston, Huntington, Parkersburg, and Fairmont Insurance Facts

Charleston is the capital of West Virginia and in 2006 add estimated population of just over 50,000. In 2005 there were 306 vehicles stolen around the city of Charleston, including the Chevy Cavalier, Ford F150 pickup truck, Chevy S10 pickup, Ford Ranger, Jeep Cherokee and Grand Cherokee, among others. If you own one of the vehicles on West Virginia's top 10 stolen list you may find that you are paying higher than the state average in insurance premiums.
As of Census 2000 Huntington had an estimated population of just over 49,000 and 2004 had eight fatality accidents involving 19 people and 15 vehicles with an average speed of 30 mph. As you can see, it doesn't take a lot of speed to get a serious injury in a collision or accident. State minimum requirements do not cover a lengthy hospital stay should you be injured in an accident, it usually costs only a few dollars more to upgrade to better protection for you and your family in case of a serious accident.
The average commute time in Parkersburg, West Virginia is 16.5 minutes and in 2004 there were two fatality accidents involving four people and two vehicles with a slow speed average of 25 mph. Most people don't realize how serious an accident can be even at slow speeds, so it's important that you upgrade your liability personal protection limits on your West Virginia vehicle insurance.
The small city of Fairmont West Virginia had a population of just under 20,000 as of the 2000 census, and as of 2005 there were 37 auto thefts in the city and the adjacent areas. Installing antitheft devices, not owning one of the vehicles on the top 10 West Virginia stolen last, and securely parking your vehicle in either a security parking area or your personal locked garage can lower your premiums.
Get Free Insurance Car Quotes from West Virginia Insurance Agencies

Automotix now offers you free insurance quotes from different West Virginia State insurance agencies. Comparison-shopping is the way to go to get the lowest premium with the best coverage for your West Virginia vehicle. You'll simply enter your ZIP code, a bit of personal information, information concerning the vehicle you'd like to insure, and an approximate driver's record. Within a few moments. You'll get several quotes from different West Virginia insurance agencies that you can compare and choose, to get the best premium and the best coverage for you and your family in West Virginia, from Automotix.
Here are some of the West Virginia insurance carriers waiting for your business: