This complete guide is filled with valuable tips on how to buy used parts, where to look for quality salvage parts, how best to determine a fair price, ways to validate salvage yards, and how not to get ripped off by fraudulent wrecking yards. A must have for anybody buying parts.
Get your copy now!
Auto Parts, Lights, Wheels, Engines..
Car Insurance Wisconsin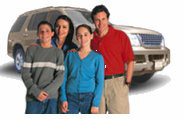 Wisconsin Insurance Facts
Wisconsin is home to over 5.5 million people as of Census 2000, and in 2005 Wisconsin wrote 3.6 million passenger vehicle insurance policies with an average expenditure of $615 in 2005.
Wisconsin Requirements for Vehicle Insurance

Wisconsin requires that you carry a minimum bodily injury liability coverage of at least 25,000 per person with a maximum of $50,000 per accident and property damage liability coverage of a minimum of $10,000. You will not be required to show proof of insurance when you renew your driver's license or register your Wisconsin motor vehicle, but should you be in an accident you will then have to show proof.
Noncompliance with Wisconsin Requirements for Vehicle Insurance.
You will need to show proof of insurance when your driver's license or registration has been revoked due to noncompliance, when you reinstate your driver's license after a suspension, if the suspension was due to an infraction or a judgment against the safety responsibility law and for drivers under the age of 18 without a sponsor. If you choose not to carry insurance with a Wisconsin insurance agency you may post a bond with the Wisconsin Department of Transportation of $60,000.
Milwaukee, Madison, Green Bay and Oshkosh Insurance Facts.

The largest city in Wisconsin is Milwaukee, and as of 2006 had an estimated population of almost 600, 000, and in 2004, 5672 vehicles were stolen in Milwaukee and the adjacent areas. Some of these vehicles may have been the Oldsmobile Cutlass, Buick LeSabre, Toyota Camry, Honda Accord, and the Buick Century. All of these vehicles are on the top 10 stolen list for Wisconsin and usually require a higher premium.
Madison, Wisconsin is the capital of the state, and as of 2006 had an estimated population of almost 550,000. Madison, Wisconsin had nine fatality accidents in 2004 involving 12 people and 10 vehicles with an average speed of 25 mph. It doesn't take a high speed accident to cause serious damage, and you need to make sure that your personal injury protection is going to be enough to cover you for a lengthy hospital stay. It usually doesn't cost but a few dollars more to upgrade your personal injury protection so that you can be adequately covered.
Green Bay, Wisconsin is the third-largest metropolis in Wisconsin and as of 2006 had a population of just over 100,000. Green Bay had 222 vehicles stolen in 2004 including the Honda Civic, Oldsmobile Delta 88, Ford Taurus, Dodge Caravan, and the Chevrolet Cavalier. These vehicles are on the 10 most stolen vehicle list in Wisconsin and installing antitheft devices and parking in a secured parking can help you reduce your insurance premiums.
Oshkosh, Wisconsin had a population of almost 63,000 as of Census 2000, but has almost 160,000 people in the metropolitan area. In the city of Oshkosh, Wisconsin, there were 59 vehicle thefts in 2004 as well as three fatality collisions involving six people and four vehicles with an average speed of 30 mph. It doesn't take high-speed to cause serious injury during a traffic collision and carrying enough insurance to cover you during a lengthy hospital stay is an important aspect of owning liability insurance. It usually is not expensive to upgrade to higher values to make sure that your covered with your automobile insurance.
Get Free Insurance Car Quotes from Wisconsin Insurance Agencies

Automotix offers you free insurance quotes from Wisconsin agencies so that you can comparison- shop and get the best rate for your family's automobile insurance. You'll simply enter your ZIP code, a bit of personal information, information concerning the vehicle you'd like to insure, and an approximate driving record. Within moments you'll have insurance quotes from several different Wisconsin agencies so that you can get the best insurance for the lowest cost. Comparison-shopping can save you hundreds of dollars a year on your automobile insurance in Wisconsin, let Automotix help you find the best rate for your Wisconsin automobile.
Here are some of the Wisconsin insurance carriers waiting for your business: