This complete guide is filled with valuable tips on how to buy used parts, where to look for quality salvage parts, how best to determine a fair price, ways to validate salvage yards, and how not to get ripped off by fraudulent wrecking yards. A must have for anybody buying parts.
Get your copy now!
Auto Parts, Lights, Wheels, Engines..
Car Insurance Wyoming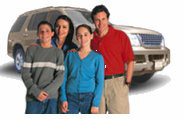 Wyoming Insurance FAQs.
As of 2006 Wyoming was estimated with a population of just over 500, 000, and is the least populated state in the union, in 2005 Wyoming had 460,000 plus insurance policies written for passenger vehicles with an average expenditure of $639 per policy.
Minimum Liability Requirements for Wyoming.

The state of Wyoming requires that anyone operating a vehicle to have a minimum requirement of 25,000 per person for bodily injury with a $50,000 max per accident and $20,000 for property damage. In Wyoming when you register your vehicle, you will be required to show proof of insurance.
Noncompliance for the State of Wyoming Insurance Laws.
Wyoming as state mandated that you must show proof of insurance for any vehicle that you drive on the highways and streets of Wyoming. This proof should be an insurance card from your Wyoming insurance agency stating a policy number, your name and the vehicle insured. You can also use receipts from payments to your insurance company as long as it states the policy number and the vehicle insured. Or you can put your actual policy binder in your glove box and show that when you are pulled over by an officer of the law of Wyoming.
Wyoming considers it a misdemeanor offense, when you are caught operating a vehicle on the roads of Wyoming without insurance. For your first offense, you will be charged a minimum of $250 to $750, and the judge can assign jail time. You'll pay $500-$1500 for your second offense, still a misdemeanor, but jail time is also an option. Should you be in an accident while uninsured your license can be suspended indefinitely or until you prove that you have met the requirements for reinstatement.
Cheyenne, Casper, Laramie and Evanston Insurance Facts.

Cheyenne is the capital of Wyoming, and as of 2005 add an estimated population of over 55,000. Even in small cities, theft can be an issue, in 2004, 591 vehicles were stolen out of the city of Cheyenne and the adjacent areas, including the Chevy 1500 pickup, Dodge Ram pickup, Ford Explorer, Ford F150 series and Honda Accord. All of these vehicles are on the 10 most stolen vehicles in Wyoming list. And if you own one, there is good chance that your insurance premiums are higher than the state average, you can lower your insurance premium by installing antitheft devices and parking in a secured parking area.
Casper Wyoming as of 2006 had a population of almost 50,000 people, and is considered the second-largest city in Wyoming. Casper also had theft of vehicles in 2005, whereas 97 vehicles were stolen including the Chevy Cavalier, the Ford F250 series, the Chevy Silverado, Jeep Cherokee and Grand Cherokee and the Honda Civic. These vehicles are also on the 10 most stolen list in Wyoming.
Laramie Wyoming is home to over 27,000 people as of the 2000 census. Laramie had two fatalities in 2004 involving three people and three vehicles with an average speed of 30 mph, severe accidents can happen no matter what speed you're traveling and making sure that you're adequately covered for a long hospital stay is your best bet. It doesn't cost much to up your personal protection insurance, but it can ruin your life with hospital bills if you are not adequately covered.
Evanston, Wyoming is a small city with a population as of the 2000 census of just over 11, 000, even in small cities theft is a problem with 31 cars stolen in 2005. In 2004 there were three fatality crash in Evanston alone, involving five people and three vehicles with an average speed of 30 mph. Serious accidents can occur even at slow speeds, and it usually only cost a few dollars to increase your personal protection insurance, so make sure that you're adequately protected should you be involved in a serious vehicle collision.
Get Free Insurance Car Quotes from Wyoming Insurance Agencies

Automotix insurance system offers you free quotes, so you can find out how much it would cost you to be adequately covered, should you be in a serious automobile accident. You'll enter your ZIP code, a bit of personal information, information concerning the vehicle you'd like to insure, and an approximate driver's record. You can upgrade your insurance values or just go for the minimum liability and you will receive several different quotes within minutes from different Wyoming insurance agencies. This will allow you to comparison shop and choose the best plan for vehicle insurance for your family. So find out exactly how much it will cost you to be adequately covered for your Wyoming vehicle insurance from Automotix.
Here are some of the Wyoming insurance carriers waiting for your business: