| | |
| --- | --- |
| | We now offer NEW 6.5 DIESEL ENGINE LONG BLOCKS for auto, truck and marine/boat. Our new crate 6.5 L V8 diesel engines come with 3-year and 36,000 mile warranty. Our replacement 6.5L diesel engine long block outperforms the GM 6.2 or 6.5 diesel engines (original motor) and guaranteed to fit your Chevy truck, delivery pickup or boat. Our premium 6.5 diesel engine built to eliminate the common failures and defects of the original General Motors 6.5 diesel engine such as cracked block, broken crank, cracks in the main webbing, cracked cylinder heads, coolant in the oil, loss of power, hard starting, low oil pressure and oil contamination. Our new 6.5 diesel engine has some key features and engineering changes that make it truly a high performance 6.5 diesel engine -- Never before has this happened in the history of the US auto industry. Don't settle for less! For more information, call 1-800-378-7566. |
6.5 DIESEL ENGINE - NEW/CRATE ENGINE BLOCK (SPECIAL OFFER)
We now offer the 6.5l crate diesel engine long blocks for truck and marine applictions. Our new 6.5L V8 diesel long block engines have optimized combustion for optimized fuel economy, electronic engine controls, onboard diagnostics II, QS-9000 certified engine factory. Since SOP 7/2000 - ZERO FAULTS ON DNV REGISTRAR QUALITY AUDITS an unprecedented achievement!
Our new long block has some key features and engineering changes that make it truly a new engine -- Never before has this happened in the history of the US auto industry.
You can buy the 6.5l diesel engine with confidence, knowing that you have the best quality engine, best pricing and with the best warranty protection - 3 year / 36,000 mile warranty.
Stock Num

65DIESEL-1

Product

ENGINE LONG BLOCK

Applications

Side Mount Turbo and Non-Turbo

Models

Trucks/RVs/Buses/Pickups/Vans/P-Trucks

Engine Type

NEW/CRATE MOTOR

Applications

1982-2004 Trucks/Boats

Motor Size

6.5 Liter / 395 CID
6.2 Liter / 381 CID

Motor Type

V8

Fuel Type

Diesel

Quality

Hot Tested To Assure Quality
Assembled By A Highly Experienced Workforce
Qs-9000 Certified

Performance

Exceed Original Performances

Warranty

3-Year / 36,000 Mile

Notes

The new premium long block engine can be configured to your exact fleet or OEM requirements and vehicle installation specifications.

Price

$5,800

Core Deposit

N/A

Shipping

$199 (48 US States)

Delivery

3 - 5 Business Days
For more information please call
1-800-378-7566!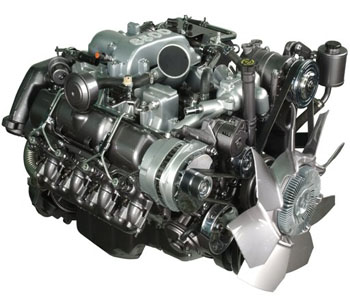 6.5 Diesel Engine Summary Information
In the world of popular motors, the 6.5 Diesel is about as well-known as you can get. This monstrous V8 engine is commonly found in trucks and boats. Originally built by General Motors (GM) in 1982, these Detroit Diesels were the driving force behind the Suburban, Blazer/Jimmy, Yukon, vans, motor homes, various marine vehicles, and more. They came in 2 models: 6.2L and 6.5L. The 6.2 L (379 ci.) was introduced and marketed as the high-MPG alternative to the V8 gas engine line. This engine produced ample power without draining a lot of fuel. The 6.5 (395 ci.) turbocharged model was then introduced to replace its predecessor, and was designed to be a pure workhouse engine that could produce credible power and achieve fuel economy.
The engines, though more than capable of supplying sufficient power, were not a fan-favorite for long. Many problems plagued this line, including cracked blocks, broken cranks, main bearing web cracks, cracked cylinder heads, coolant in the oil, loss of power, hard-starting, oil pressure problems, and oil contamination. Through all these many problems, the engine itself still remained widespread and used in various applications. But when it came to engine upkeep, the 6.2 and 6.5 kept a lot of owners in auto shops, trying to get the problems worked out.
Most problems were fixable, and the line continues to be popular today. But where GM (now Duramax) failed, others have succeeded. Automotix carries the brand new, High Performance Crate 6.5 Diesel Engine. What's so different about this engine? Unlike the troublesome GM line, our engines are quality-built, and eliminate the previous problems found in engines of the past. The Crate 6.5 Diesel is completely redesigned and is guaranteed to outlive and outperform the mass-produced GM Diesel.
Our engines address and solve all of the common problems. Our improved line gives you a 36% power increase, 69% increase in torque, 16% increase in range, 23% faster acceleration from 0-30, 35% faster acceleration from 0-50, 21% increase in top-end speed, 80% reduction in R&R time, best weight to HP ratio in its class, and a 25% increase in engine block tensile strength. All told, we've completely reversed all of the problems which plagued the GM line. The Crate 6.5 Diesel is a force to be reckoned with.
Our High Performance 6500 Engine fits all 6.2 and 6.5 Diesel applications, including vans, trucks, SUVs, and boats, making it easy to swap your engine out for something, not only better, but light years ahead of the curve. You don't have to worry about our new Crate 6.5 Diesel being too large for your 6.2 vehicle. Our engines are specially built to address that problem also, making it possible for you to experience all of the tremendous power and reliability of our new Crate 6.5 Diesel line.
At Automotix, we make sure that your engine never quits on you! That's why we offer our 3-year, 36,000-mile warranty on our 6.5L long-block. Our engines easily outperform the GM engines of yesteryear. For a quality difference, check out what Automotix can offer you. Call now 1-800-378-7566!!!