This complete guide is filled with valuable tips on how to buy used parts, where to look for quality salvage parts, how best to determine a fair price, ways to validate salvage yards, and how not to get ripped off by fraudulent wrecking yards. A must have for anybody buying parts.
Get your copy now!
Auto Parts, Lights, Wheels, Engines..

2001 Dodge Grand Caravan Mirror, Passenger Side.
---

2000 Chevrolet Blazer Turn Signal Light, Driver Side.
---

2007 Honda Accord Sedan Door Handle Covers, Door Handle Covers; 4 Door; Without Passenger Side Keyhole, , .
---

1995 Toyota Pickup L4, 2.4 L, 2366 CC Rebuilt Engine, OHC, RWD, Fuel injected or Carb. Fits 8/84-10/95, Warranty: 3-Year/100,000 Mile, .
---

2013 Infiniti JX35 Used Flywheel, (CVT), Very Good.
---

2012 Infiniti M35H Used A/C Compressor, 3.5, AUTO, RWD (VQ35HR, M35h, Hybrid), Very Good.
More parts
Newsletters
Hello.

Welcome to Auto Secrets Revealed, a newsletter dedicated to you - the automobile enthusiast.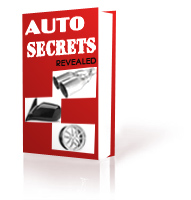 Auto Secrets Revealed helps you save money in many different ways. These include repairs, dealing with salvage yards, finding honest mechanic or auto body shops, finding specialty parts for sale, auto parts shopping tips, online coupons, new or used car purchases and everyday driving expenses. But that's only the beginning. In every issue you will find repair tips, tutorials, videos, coupons, and other money-savers. And it's all free!

Each week we feature a variety of exciting articles. For example, learn about Car Care - From Routine Maintenance to Complex Repairs; How to Shop for Parts: Secrets of Expert Parts Shoppers; Street Racing; Performance Parts Guides; New Accessories - all geared to help you enjoy and have fun with your car.

So click on the link below. Start reading and benefiting from Auto Secrets Revealed today.

Sincerely,

Rich Bowen
Editor