Air bags are one of the safety accessories needed for driver and the car. They are more useful than the seat belts as they have a capacity to spread effect of crash over the driver's head and chest. Therefore, it does not let the driver to collide in the steering wheel, windshield or dashboard. Apart from wearing a seat belt, air covers are also necessary especially for the enthusiast drivers.
Air bags are most efficient in preventing frontal crashes by inflating at once. You can have both frontal and side air bags to be more convenient. As such, there are two basic types of airbags. These are frontal air bags and side impact air bags. Talking about former air bags, they require wearing seat belts along with them. However, they are not efficient enough in providing protection in rollovers or rear end crashes. They are further available in different categories. If you are possessing light weight vehicle, go for the advanced frontal air bags.
Another one is side impact air bag. They are especially designed to shield head and chest of the driver in case of serious accidents. They are also divided into three types as frontal air bags are. Head air bags support your head. You need to install them in the roof rail particularly above the side windows. They aim to help both front and rear passenger in case of a side impact crash. The air bags that are attached to side of the seat are especially installed to protect chest of the driver. They are known as chest or torso air bag. Larger than this is a combo air bag that is designed for safety of both head and chest. You can have any one of them depending on your need. Do not forget to have the product buying slip.
While purchasing for the used car air bag, always consider the one that have tendency to inflate rapidly and effectively. Always check their working by turning off the ignition of the air bag. If its indicator light appears and instantly goes out, then it would be an ideal choice for your safety. Do not choose the product, if it is light keeps on flashing. Make sure you clearly describe your necessity to the used air bags dealer. You should always ask for the guarantee and warranty period of the product.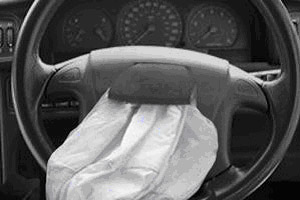 Locate Used Air Bag Here!
Buy Recycled Used Air Bag - Shop Online

The world isn't the same as it was fifty years ago. We're on the brink of a global disaster with warming and pollution. At Automotix, we take these things into consideration and have delivered cost-effective, eco-friendly options for the many consumers out there. Automotix does its part to help the environment by recycling used parts and keeping junk scraps - rubber, metal, and plastic - out of the environment.
The United States is one of the largest producers of non-degradable scraps. As citizens, we it to ourselves to do our part to reverse this trend - by purchasing used parts from Automotix, you're not only saving money, you're helping to heal the environment.
Shop Online > Choose Make >
Find below some examples of used Air Bag requests
---

Vehicle
Part
Buyer Location
Action

Used 2000 Chrysler Cirrus Air Bag

This complete guide is filled with valuable tips on how to buy used parts, where to look for quality salvage parts, how best to determine a fair price, ways to validate salvage yards, and how not to get ripped off by fraudulent wrecking yards. A must have for anybody buying parts.
Get your copy now!